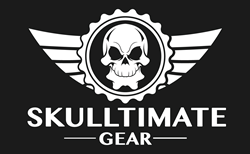 We provide awesome stuff for awesome people
Cleveland, Ohio (PRWEB) July 02, 2015
Cleveland Entrepreneurs launch Skulltimate Gear with a bang, literally! Skulltimate Gear sells apparel, biker skull rings, skull shirts and art that's skull related. From bikers to pin up girls, Skulltimate Gear plans to cater to the counterculture, and what better way than with the rebellious representation of the skull. On July 4th, the sounds you hear won't just be from firecrackers, two brothers from Ohio will be bringing their business talents to the NASCAR Firecracker 250 held at the Daytona National Speedway. Ted and Todd Moss co-founders of several successful businesses including, Crimcheck.com, Investigations America and Fresh Squeezed Minds will be showcasing their newest Endeavour. "Skulltimate Gear" will be a prominent sponsor on the Fat Bobs Racing Team's entry and in conjunction with Mike Harmon Racing for this year's race.
"We provide awesome stuff for awesome people," said CEO, Todd Moss. "Skulltimate Gear is going to be offering a line of alternative jewelry and accessories that is all about the freedom to express yourself, and what better time than Independence Day to do so?" After 23 years in the security and law enforcement field, COO Ted Moss stated "its time for a radical change and Skulltimate Gear is radical, fun and an awesome new place to gear up and express yourself!"
Skulltimate Gear is also pumped to be partnering with Eddie and his team at Fat Bobs Racing. The company will be working with them throughout the racing season to bring awareness to not only Skulltimate's brand but to Fat Bobs Garage, who has been instrumental in putting together this racing team. Eddie Kucharski of Fat Bob's racing said, "we are extremely excited to have Skulltimate Gear as a partner, as well as the partnership of Mike Harmon Racing for the Daytona Xfinity Race. We look forward to a long relationship for our 2016 season."