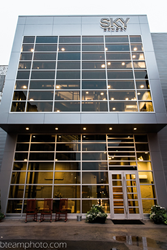 Seizing this opportunity to develop a venue in the heart of downtown and Syracuse's urban revitalization has been an incredible journey.
Syracuse, NY (PRWEB) December 01, 2015
SKY Armory has turned one year old. The popular Syracuse meeting and event venue has rocked the Central New York event and party scene by bringing in over 20,000 guests in just one calendar year and hosting 122 events.
SKY Armory had a very positive impact on the Syracuse economy; to date, it has brought over 1,000 new visitors to the area who have frequented the city's salons, restaurants, bars, taxi services, and limousine services. The venue plays a large part in the revitalization of the downtown area by injecting traffic and business to neighboring establishments. The Jefferson Clinton hotel, for example, reports a 50 percent increase in weekend occupancy since partnering with SKY Armory. Revitalizing the downtown area was a longtime dream for SKY Armory's President and Creative Director, Nicole Samolis.
"I've always been of fan of Downtown, and seizing this opportunity to develop a venue in the heart of downtown and Syracuse's urban revitalization has been an incredible journey," she said. "Seeing the impact we are creating is just so cool. Wowing clients and their guests into 'raving fans,' attracting new visitors to Syracuse and the area, filling local hotel rooms, seeing guests spilling out into the local pub scene, employing an amazing team of people from all socio-economic levels has been so rewarding that I can't imagine not having taken this huge leap of faith in transforming what an event and guest experience should be."
SKY Armory offers clients and visitors expansive open loft spaces and metropolitan modern aesthetics that surpass other venues in the area. The venue uses simple white walls, exposed brick, and a textured, neutral toned carpet to provide event planners with a blank canvas that allows for any type of decor and will not clash with any pattern, colors, or branding.
Along with this blank canvas, SKY Armory's in-house team of experienced decor and floral professionals creates totally immersive environments through the use of special features like hand-painted murals, floral arrangements, centerpieces, and hanging treatments. These professionals design each event with an eye toward the event's special needs, flow, and style; no two events will ever be exactly the same. The popular venue also provides a full-service event planner along with packages that provide many amenities that most venues charge extra for.
SKY Armory emphasizes fresh, from-scratch cuisine with global influences and provides fully customizable menus based on the desires of each client. "We like sitting down with each client and learning more about them so we can personalize their menu," says Executive Chef Jason Jessmore. The modern venue is constantly innovating new dishes and also puts a fun take on the traditional buffet line by instead offering interactive stations that are more engaging and exciting.
SKY Armory's highly successful first year in business is due in part to the staff's commitment to providing quality customer service. From the president to greeters and security, the SKY Armory team anticipates the needs of guests. They have gone, and will go, above and beyond to make guests feel comfortable and taken care of, particularly when there are special requests.
For more information on SKY Armory's one-year anniversary, please contact them at (315) 473-0826. The venue is located at 351 S. Clinton Street, Syracuse, NY 13202.
SKY Armory is a modern event venue in Syracuse, New York. The establishment, which has been in business for one year, can accommodate anywhere from 50 to 900 people and houses one small ballroom and two large ballrooms. It offers an on-site ceremony space, outdoor space, and cocktail space as well with many options for floor plans and room layout.