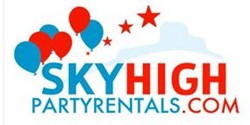 Founding Sky High was motivated by a desire to really get people excited, kids and adults alike. With each successful party, I'm reminded of just how rewarding my job is.
Humble, Texas (PRWEB) August 14, 2013
Robert De Los Santos, CEO of Sky High Party Rentals, has been selected to receive the Houston Minority Supplier Development Council's (HMSDC) Emerging 10 award. The Emerging 10 (E-10) award is sponsored by Shell, Exxon Mobil, Chevron, BP British Petroleum, United Airlines, KBR, and Goldman Sachs. Its goal is to recognize Houston area minority entrepreneurs who are making a significant contribution to the community.
Sky High Party Rentals provides high-quality specialty moonwalks for children's and adults' parties. Robert, a native Houstonian and 29-year old founder and CEO of Sky High Party Rentals, first started the business out of his parent's house with a single moonwalk. The company currently offers over 200 specialty moonwalks and has seen revenue climb by 40 to 60% every year since its beginning in 2006. Most importantly for the Houston economy, Sky High Party Rentals employs over 40 people who work in sales, delivery, and customer service positions.
After only seven years in business, Sky High Party Rentals already books more than 5,000 parties a year, offering both moonwalk (moon bounce) rentals and inflatable water slide rentals. Currently, the company serves Houston and surrounding communities, including Kingwood, Sugar Land, The Woodlands, Katy, Spring, Tomball, Clear Lake, Baytown, Pasadena and Deer Park. Schools, churches, and kids' birthday parties are specialties of Sky High Party Rentals.
"Founding Sky High was motivated by a desire to really get people excited, kids and adults alike. With each successful party, I'm reminded of just how rewarding my job is," says Robert. "Whether it's the smile on a child's face or booming laughter among colleagues, it's great to see how our moonwalks and 'inflatable adventures' bring joy to people."
Dedicated to providing those in the Houston, Texas region with hassle-free party solutions, Sky High Party Rentals offers over 200 unique inflatables. It caters to both children's birthday parties and large events of often more than 400 people. Some of its most popular and one of a kind products include a mechanical shark, inflatable obstacle courses, a hamster ball collision course, and multi-lane waterslides. Kids love Sky High's cartoon moonwalks, which include a Disney Princesses carriage moonwalk, a Justice League moonwalk, a Dora the Explorer toddler moonwalk, and a Hello Kitty moonwalk. The very large Pirate Ship moonwalk and Sports Arena moonwalks are popular with teenagers and adults, proving that one is never too old to have a great time!
Robert founded the company when he was a college student at the University of Houston. After realizing his love for business, Robert joined the university's Wolff Center for Entrepreneurship, where he first learned the basic skills needed to run his company. It was while studying business that Robert came to recognize a desire to grow his business into a successful company that would have a positive impact on people's lives and the local Houston economy.
Since graduation, De Los Santos has grown Sky High Party Rentals to cover the Greater Houston, Texas area, and plans to expand further throughout the state. In 2011, the company was awarded the Empact100 award. Empact100 was a great recognition of how successful Sky High has become under Robert's watchful eye. The award was presented at the White House in Washington, D.C. to Robert and a number of other top business leaders under the age of 30.
Robert has also committed himself to finding innovative ways to help the Houston local economy by serving as a U.S. delegate at the G-20 Young Entrepreneur Summit. The G-20, attended by U.S. President Barack Obama and leaders of the 20 largest global economies, serves as an international forum for national and international economic issues. As delegate, Robert was able to collaborate with international young entrepreneurs to develop innovative ways of boosting local economies, which in turn helps the larger national economy.
Most recently, 2012 saw Robert participate in the Goldman Sachs 10,000 Small Businesses program. The program helped Robert take Sky High to the next level in terms of business growth. Goldman Sachs' business mentors have helped Robert plan for the future growth of the business.
In keeping with its local roots, Sky High Party Rentals also functions as a fundraising vehicle for the Houston-based non-profit company, IndieHouston.org. Also founded by Robert, IndieHouston.org is dedicated to aiding local artists and musicians create sustainable business models to support their endeavors. Since its inception, the organization has helped fund the production and release of music albums, hosted music showcases at the SXSW festival in Austin, Texas, and has facilitated film screenings for local filmmakers.
Robert De Los Santos thanks the Houston Minority Supplier Development Council for its recognition of Sky High Party Rental's positive effect in Houston and the local economy. "One of my primary goals has always been to provide good employment opportunities to local men and women," says Robert. "Sky High helps support the families of our 40 employees. I want to continue to provide stable employment and a positive work environment for Sky High's employees, because they are the backbone of our operations."
Learn more about Sky High Party Rentals, and find more details on its moonwalk rentals in Houston, by visiting the company online at http://www.SkyHighPartyRentals.com . Reservations can be made via phone by calling a customer representative at 281-606-JUMP (5867). The line is open Mondays through Fridays from 9am to 6pm and on weekends from 7am to 8pm. The company also connects with its fans on Facebook and Twitter at http://www.facebook.com/SkyHighPartyRentals and http://twitter.com/SkyHighParty.