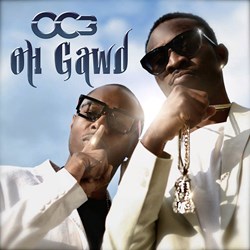 London, UK (PRWEB UK) 29 August 2013
Oh Gawd is the new single by English hip hop group OC3 . It was produced by Xpert & Dr Benstein under the record label LouD NeighboR MuziK.
Gamblez & Diodan members of OC3 one of the brightest talents from the urban genres in the UK have drawn influences from all different genres of music. The brand new single "Oh Gawd " was released on 2 july 2013.
"Oh Gawd"is to embrace the feeling of accomplishment and triumph over difficulties that we can ALL overcome if you focus on what you want and work hard towards it it's an expression of something amazing. start from the bottom, zero to hero. Directed by King Cross Media the music video was filmed in London, England on 25 June 2013.
It premiered on Youtube on 15 July 2013.
Youtube link: http://www.youtube.com/watch?v=mzPgxZC_dBo
The trendy hip hop music video is getting a lot of media attention and
it can now be watched on MY CHANNEL Sky 203 within the "MY FUTURE HITS" program.
The show airs every week day at 8.45pm.