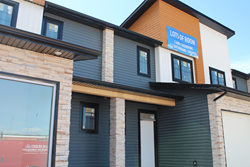 Urban design plus prime location is a perfect combination at Skye and this has been the focus of design since the beginning.
Lethbridge, Alberta, Canada (PRWEB) June 04, 2014
Avonlea Homes is having a Grand Opening Event at the new Skye Community in West Highlands on June 7-8 from 12-5pm. Two new Skye show suites will be open to the public this coming weekend to represent the 45 units available for Phase One.
"Urban design plus prime location is a perfect combination at Skye and this has been the focus of design since the beginning," says Jennifer McCarthy, Head of Design & Production at Avonlea Homes, "This project has been challenging and fun to achieve a look that is different than anything else on in the City of Lethbridge. Trendy exteriors with stunning interior packages allow home owners to live a convenient lifestyle that is minutes away from all of the great West Lethbridge amenities."
Skye is about living a true urban lifestyle and it's location has a lot to do with it. Skye is nestled into the West Highlands area of West Lethbridge, and located directly across the street from over 40 restaurants, shopping stores, bars, services, clinics, and more --- everything you'd need right at your fingertips. The new townhome site is also close to many schools, including the University of Lethbridge.
These Skye units are a great purchase for all buyers. First time home-buyers will move in to a brand new home that won't need anything but furniture. People looking for something smaller will love the high-end feel and contemporary design. Parents of university students will find a unique investment opportunity, as these town-homes are ideal for renters and students alike.
Skye has arrived at a pivotal time, as more businesses, schools, community centres and people flock to Lethbridge's booming west side. The need for more modern, affordable, and maintenance-free housing is prominent, and Skye is here to fill that housing-void.
Two floor-plans are available at Skye. The two bedroom design features double large masters, both with their own en-suites. The three bedroom floor-plan includes one master with en suite, and two smaller bedrooms with a second bathroom on the upper level. Both floor-plans include an open concept living area on the main floor with powder room, large kitchen and attached single garage with entry directly into the home.
There are a limited number of Skye units available for purchase during the initial phase. With 10 units already sold, this phase will soon be gone!
For additional information, visit Avonlea Homes website at: http://www.avonleahomes.ca or contact our office directly at 403.320.1989. The Skye Sales Centre will continue to be open weekends from 1-5pm and weekdays from 2-8pm and is located at 420 Highlands Blvd West.
Avonlea Master Builder has been building homes and communities for the past 20 years. Based out of Lethbridge, Alberta, Avonlea has won multiple new home design awards, as well as Builder of the Year. As the official builder of the STARS Lottery Dream Home in Lethbridge for the past 16 years, Avonlea continues to bring groundbreaking design, quality construction, and beautiful communities to the residents of Lethbridge and beyond.