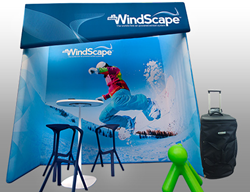 The Windscape™ streamlines the entire exhibition stand process for our end users, saving considerable time and costs.
(PRWEB UK) 20 August 2013
Skyline Whitespace, one of Europe's leading exhibition stand designers, manufacturers and distributors, are proud to announce the Skyline®WindScape™—a revolutionary air-powered and easy-to-transport system for exhibitions and events.
The cutting-edge technology was unveiled at a launch event at Skyline's world headquarters in Eagan, Minnesota, and was simulcast at Skyline dealer offices across the globe, as well as at Skyline service centres in Orlando, Las Vegas, and Toronto. It saw its European launch at last month's Marketing Week Live 2013 to great approval.
Skyline's WindScape™ exhibition stand is the first system to use inflatable technology in exhibition stand structures. It is available in 46 standard shapes and designs, from small overlays and backwalls to large hanging structures and 16-foot-tall towers — even as an entire inflatable conference room. The sheer variety of design and customisation means that over two million combinations are available, offering an unparalleled number of available adaptations to suit any exhibition. WindScape™ is made of extremely durable and lightweight materials making it easy to set up and take down. A full 10-foot exhibition stand backwall transports in a single carry-on case.
WindScape™ takes only minutes to inflate and deflate, reducing installation time while maintaining both quality and professional style. Skyline's inflator is powered by a rechargeable battery pack or plug-in that will work around the world. The structure is built around a fabric frame, and contains an inner air tube which, when inflated, creates a solid frame. This frame is covered by a wrinkle-free fabric graphic, which is always in place, but is also removable, so that messaging may be easily exchanged.
Speaking about the WindScape™, Skyline Whitespace Creative DirectorAdam King said: "The WindScape™ is the most innovative product we have ever designed. In terms of how it will affect the exhibition world, we see it as revolutionary. Never before has there been such scope to customise, manipulate and erect exhibition stands in this way; the Windscape™ streamlines the entire exhibition stand process for our end users, saving considerable time and costs. The ease of use afforded by the WindScape™, particularly in its portability, is something that has never been done before, and for Skyline Whitespace to be leading the way in this as a world first, is something we are immensely proud of."
Pricing for the Skyline® WindScape™ exhibition stand is comparable to the company's existing systems — but significant savings will be achieved with the reduced need for the expense of storage, installation, dismantling and shipping. The WindScape™ is also designed to easily integrate with other Skyline products and has undergone extensive testing for quality, safety and durability.
"Skyline® WindScape™ saves money from shipping to drayage, to labour and I&D." says Patti Stratford, Allianz Global Assistance. "I think it's perfect."Allianz was one of a few select clients that used the product prior to its official launch.
Skyline® WindScape™ is also a new option for many other applications beyond exhibitions, including events, pop-up stores, backwalls for TV studio sets or temporary private spaces like special events, health clinics, or smaller hotel conferences. "Skyline® WindScape™ is an ideal choice for applications in which an exhibition stand or structure needs to be set up quickly, then packed up easily and transported.
Skyline Whitespace is one of Europe's leading names in exhibition stands. Known for high-quality manufacturing, cost-saving portability, innovative functionality, creative design and exhibition education, Skyline is represented in over 30 countries worldwide. The company manufactures a broad range of products for exhibitions and events, from banner stands and pop-up displays to large custom modular exhibition stands. With over 20 integrated exhibition systems, state-of-the-art production of large-format graphics and options for exhibition stand rental and services, Skyline Whitespace provides exhibition and event solutions for virtually any size or budget, including its new line, the Skyline® WindScape™ exhibition stand—a revolutionary inflatable and easy-to-transport system. For more information about Skyline Whitespace and its comprehensive range of products, please visit http://www.skylinewhitespace.com, and to learn more about the WindScape™ visit http://www.skylinewhitespace.com/products/portable-displays/windscape .
Skyline Whitespace
320 Western Road
Wimbledon
London
SW19 2QA
Tel: 0845 260 5440