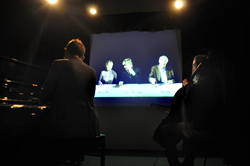 Skyline Whitespace joined forces with the Royal College of Music
(PRWEB UK) 21 January 2015
London-based exhibition stand designers Skyline Whitespace recently partnered with the Royal College of Music in order to design and build a stage for a ground-breaking performance simulator, funded by the Peter Sowerby Foundation. The purpose of the simulator is to both manage the anxiety which musicians can face when confronted by a live audience, and also enhance their professional playing skills.
The simulator was conceived by the Royal College of Music, alongside the Conservatorio della Svizzera Italiana and creative design consultancy Studiohead. It offers a unique way for musicians to rehearse in surroundings which effortlessly mimic those of a genuine performance. Rather than being confined to a rehearsal room, and then greeted with a shock of nerves when the time to perform on-stage comes, the performance simulator allows musicians to face an interactive virtual audience under realistic lighting conditions.
The audience itself is, thanks to the technician controlling them, reactive to the music played – proffering applause and standing ovations or expressing their disapproval. Other factors such as coughing or even mobile phones ringing add an element of realism to the environment Skyline Whitespace created. In addition to the 'stage' area, the simulator also comes complete with a back-stage area to further enhance authenticity. This was a crucial requirement in the construction of the musical performance simulator, given that performers often cite that one of the significant moments when stress is at a pinnacle is just prior to the main performance, as the audience settles into their seats.
It was the task of Skyline Whitespace's professional designers and engineers to build the area on which the digitally-produced audience would appear and musicians were to perform. The stage itself was constructed using the streamlined steel frames of the Inliten exhibition system, well-known for its dynamic and flexible assembly. Around this, Skyline Whitespace installed heavy-duty black curtains, in order to block out the light and the rest of the world, and offering musicians the chance to perform in a beautifully intimate setting – just the artists and the audience and the music.
Skyline Whitespace is one of the leading providers of custom modular stands in Europe. They specialise in creating stands for exhibitions but can create spaces for any promotional event. Since 2002, Skyline Whitespace has developed a very strong reputation, and their clients include respected companies such as Barclays, Activision and Conrad Hotels. Their creative design and attention to detail means that stands can be designed to precise specifications. With over 20 different innovative exhibition and display systems, teamed with cutting edge engagement technology and custom build capabilities, the possibilities are endless.
For more information about Skyline Whitespace or to read more about their work, please visit http://www.skylinewhitespace.com.