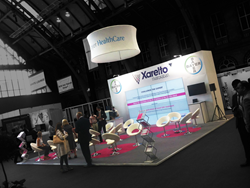 By using an ultra high definition videowall, we were able to achieve the main objective of creating instant impact for visitors
(PRWEB UK) 23 June 2014
Skyline Whitespace, specialists in exhibition stand design, have created an attention-grabbing stand for their client Bayer Healthcare at the upcoming Commissioning 2014 event. The central feature is a sixteen-screen video wall, displaying an ultra high definition 4k animation detailing Bayer's products and key conference information. Complementing the video wall, the stand also offers space for networking and a coffee bar with a barista. Previous configurations of this design have been used effectively for Bayer's recent stands at the Clinical Pharmacy Congress and the British Cardiovascular Society Conference, and both Skyline and Bayer are anticipating further success at the Commissioning Show.
The Commissioning Show is part of the Health+Care event, the largest national event for health and social care providers, and is an exceptionally important event for health care suppliers, providing unparalleled access to primary care decision makers and professionals within the commissioning community. The Commissioning Show takes place at London's ExCeL centre on the 25th and 26th June, and Bayer will be at stand B50.
Speaking of their relationship with Bayer Healthcare, Account Manager for Skyline Whitespace Adam Quinney said: "We have been working closely with Bayer since 2002, and we have successfully delivered more than a hundred events for them now, so when we were asked to create impact for their 2014 programme of events we designed a new stand with a 4k videowall at the heart of our concept. By using an ultra high definition videowall, we were able to achieve the main objective of creating instant impact for visitors, while at the same time providing an interactive canvas for easy-to-update messages and branded content."
Project Manager Russell Dunn said of the stand's design: "The Bayer stand looks visually impressive, although the technical nature of the stand is fairly straight forward. Using our custom modular system, we're able to utilise the same exhibition stand components in slightly different configurations, depending on the size of the space booked, so we're able to efficiently deliver a great looking stand in minimal build time, and maintain a high level of consistency for our long standing client."
Skyline Whitespace is one of the leading providers of custom modular stands in Europe. They specialise in creating stands for exhibitions but can create spaces for any promotional event. Since 2002, Skyline Whitespace has developed a very strong reputation and their clients include respected companies such as Barclays, Activision and Conrad Hotels. Their creative design and attention to detail means that stands can be designed to precise specifications. With over 20 different innovative exhibition and display systems, teamed with cutting edge engagement technology and custom build capabilities, the possibilities are endless.
For more information about Skyline Whitespace, or to read more about their work please visit their website at http://www.skylinewhitespace.com.