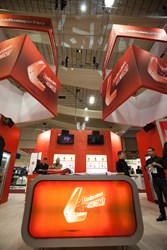 Ladbrokes yet again had the best stand at the show, with both exhibitors and visitors alike complimenting them on the incredible design.
London (PRWEB UK) 17 February 2014
Skyline Whitespace, London based exhibition stand company, were busy at the recent London Affiliate Conference at Earls Court, having designed and built stands for fifteen of the 125 exhibitors. Amongst their clients were 24 Option and Ladbrokes, two of the most highly anticipated stands prior to the event.
While Skyline Whitespace constructed the largest stand in the hall for 24 Option, they are also proud of the design work involved in their partnership with Ladbrokes. Their stand at the LAC was a reconfigured version of the stand used at last year's Barcelona Affiliate Conference, and like the earlier version it drew a great deal of favourable attention.
Daniel Bailey, Account Manager at Skyline Whitespace, said: "Ladbrokes yet again had the best stand at the show, with both exhibitors and visitors alike complimenting them on the incredible design. We changed the layout from Barcelona (BAC), creating more of an open bar feel, with additional Windscape headers and confetti projection onto the ceiling, creating a great show presence and a sense of movement from floor to ceiling."
Having so many clients at the same event presented particular concerns for Skyline Whitespace. Mr Bailey continued, "With our clients attending the LAC, including some of the biggest names in the industry, making sure they all had different, yet stunning designs was a serious challenge. We not only succeeded, but positively triumphed, and created some of the best looking stands there."
Project manager Matthew Morgan, in charge of the build at LAC 2014, said: "We had a very talented team onsite which included graphic technicians, exhibition stand builders, and AV specialists. A successful build meant deploying this broad range of skill sets across all 15 stands, at carefully planned times. Meticulous planning, as well as the pre-build of exhibition stands at our London office, guaranteed a smooth process from start to finish, and the positive attitude of Skyline staff ensured 15 out of 15 happy clients!"
Skyline Whitespace is one of the leading providers of custom modular stands in Europe. They specialise in creating stands for exhibitions but can create spaces for any promotional event. Over the years, Skyline Whitespace has developed a very strong reputation and their clients include respected companies such as Barclays, Activision and Conrad Hotels. Their creative design and attention to detail means stands can be designed to precise specifications. With over 20 different innovative exhibition and display systems, teamed with cutting edge engagement technology and custom build capabilities, the possibilities are endless.
For more information about Skyline Whitespace, to read more about their work or to learn about their range of custom exhibition stands, please visit their website at http://www.skylinewhitespace.com.