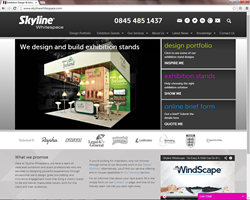 We're very happy with the new design of our website and naturally excited to see it go live.
(PRWEB UK) 14 August 2014
Skyline Whitespace, leading exhibition stand providers, have launched a new redesign of their website, offering added functions and an improved online experience for their clients and customers. Alongside a fresh new design to revitalise the site, keep it up to date and reflect the company's own design skills, the pages have been restructured for better usability. Naturally, the site uses a responsive design to ensure excellent usability across all platforms, including mobile and tablet devices.
One of the key features of the new website is the design portfolio, which details many of Skyline Whitespace's successful exhibition stand designs and provides an excellent reference point and inspiration for new customers. Whilst this was a feature on the previous site, it has been expanded and prioritised, and is now much easier to access from the front page. The site also now includes a knowledge section, featuring whitepapers and other useful exhibition information which will continue to grow to provide an excellent resource base for new and ongoing exhibitors alike. Another new addition is a social media aggregator, allowing customers to find all the latest social media updates from Skyline Whitespace in one place. This includes posts to their Pinterest account, which has been restructured along with the website to provide plenty of new boards to inspire clients and designers alike.
Fred Attrill, Digital Marketing Manager at Skyline Whitespace said: "We're very happy with the new design of our website and naturally excited to see it go live after months of hard work. Putting our design portfolio front and foremost on the site means that visitors can see exactly what we do almost instantly. Being one of the most accessed pages on the site, it now has the positioning it deserves. The new platform has also enabled us to implement an improved SEO strategy, as well as the ability to produce content updates on a much more regular basis."
Skyline Whitespace is one of the leading providers of custom modular stands in Europe. They specialise in creating stands for exhibitions but can create spaces for any promotional event. Since 2002, Skyline Whitespace has developed a very strong reputation and their clients include respected companies such as Barclays, Activision and Conrad Hotels. Their creative design and attention to detail means that stands can be designed to precise specifications. With over 20 different innovative exhibition and display systems, teamed with cutting edge engagement technology and custom build capabilities, the possibilities are endless.
For more information about Skyline Whitespace, to see the new website or to read more about their work please visit http://www.skylinewhitespace.com.