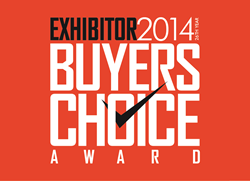 It's amazing to earn such a high accolade to recognise the innovation in our revolutionary new inflatable display.
(PRWEB UK) 10 April 2014
The innovative air-powered Windscape® Exhibition System was recognised as one of best new products of the year at the recent EXHIBITOR2014 show in Las Vegas. The event, organised by the Exhibitor Media Group, publishers of EXHIBITOR magazine, is the top-ranked educational conference of the trade show and corporate event industry in America. As part of their inaugural awards event, a range of products making their debut at the show were considered by a panel of judges for the Buyers Choice Award. Based on four criteria - design innovation, broad-based applications, addressing an industry need or issue, and whether the product enhances the job of the exhibition marketing professional – this award was given to only six new products.
First unveiled last summer, the Windscape is a revolutionary product consisting of an inflatable frame and pre-printed fabric graphics. One of its leading advantages is the ease and speed with which it can be set up, taking only a few minutes at the push of a single button to erect a full size display. It is also extremely compact, with both display and the inflation equipment fitting into a carry-on sized case.
Fred Attrill, speaking for Skyline Whitespace, said; "We're delighted to win the Buyers Choice Award for WindScape, after our appearance at Exhibitor 2014 in Las Vegas. It's amazing to earn such a high accolade to recognise the innovation in our revolutionary new inflatable display. Since we launched WindScape at Marketing Week Live 2013, this unique product has continued to gain popularity, as well as interest from the internationally recognised brands we work with."
Skyline Whitespace is one of the leading providers of exhibition stands in Europe. They specialise in creating stands for exhibitions but can create spaces for any promotional event. Over the years, Skyline Whitespace has developed a very strong reputation and their clients include respected companies such as Barclays, Activision and Conrad Hotels. Their creative design and attention to detail means exhibition stands can be designed to precise specifications. With over 20 different innovative exhibition and display systems, paired with cutting edge engagement technology and custom build capabilities, the possibilities are endless.
For more information about Skyline Whitespace, to read more about their work or to learn more about the Windscape, please visit their website at http://www.skylinewhitespace.com.