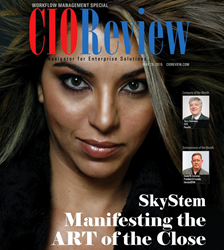 This award is especially gratifying because the nomination for the top 20 list was initiated by a customer.
New York, NY (PRWEB) June 16, 2015
CIOReview selects SkyStem's Financial Close Automation Tool as one of the 20 Most Promising Workflow Technology Solutions. As an automated solution for account reconciliations and the financial close, SkyStem's ART is helping companies throughout the world become more vigilant. Financial controllers and CFOs whose current workflow is encumbered with manual processes, spreadsheets and binders are challenged with accuracy, timeliness and completeness during the close. While automation removes many of these challenges, ART's workflow technology goes beyond basic automation as it helps finance teams meet strict security, reporting, compliance and auditing standards.
Top players in workflow technology were selected by a distinguished panel of CEOs, CIOs, analysts and the
CIOReview editorial board for the list. Firms selected have exhibited vast knowledge and in-depth expertise in delivering workflow related solutions.
"Accountants work so hard and contribute so much to the enterprise. I believe they should have the opportunity to participate in challenging and fulfilling work and leave the mundane to the machines," states Shagun Malhotra, Founder and CEO of SkyStem.
ART helps all members of the finance team improve internal controls. CFOs and Financial Controllers obtain real-time account reconciliation status reports via dashboards and reports along with automated email alerts informing them of key milestones in the process. They also have access to a document repository which houses their supporting documents and reconciliation data. Auditors are able to access relevant information with customizable restricted access to ART. The workflow within ART establishes accountability, separation of duties and an audit trail by providing time-stamping and electronic signatures.
"SkyStem has been on our radar for some time now for stirring a revolution in workflow technology space, and we are happy to showcase them this year due to their continued excellence in delivering top-notch technology-driven solutions," said Harvi Sachar, Publisher and Founder, CIOReview. "SkyStem continues to break new ground to benefit its customers around the globe, and we're excited to have them featured on our top companies list."
About SkyStem
SkyStem offers a month-end close and account reconciliation solution, ART, which automates the financial close and reconciliation process, coordinates staff, establishes workflow, strengthens internal controls, and communicates insight on demand. Companies rely on ART to help reduce spreadsheet usage, eliminate paper and binders and automate burdensome compliance activities. ART routinely helps the accounting department auto-reconcile up to 30% of the total reconciliation volume each month, automate checklist activities and reconciliation cover sheets, perform electronic sign offs, archive data, ease audit burden and reduce other labor-intensive administration so that accountants can do more with less and win back their time. http://www.skystem.com
About CIOReview
CIOReview constantly endeavors to identify "The Best" in a variety of areas important to tech business. Through nominations and consultations with industry leaders, our editors choose the best in different domains. Workflow Special Edition is an annual listing of 20 Most Promising Workflow Technology Solution Providers in the U.S.