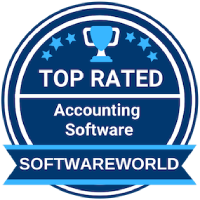 "Being listed as Softwareworld's 2019 Top Rated Finance and Accounting Software is very important to us as we strive to be the most customer-centric and best value solution of its kind." - Shagun Malhotra, CEO and Founder of SkyStem
NEW YORK (PRWEB) June 13, 2019
SkyStem LLC, a provider of automated month-end close account reconciliation software is proud to announce being named a Top-Rated Finance and Accounting Software in Softwareworld's 2019 Best Accounting Software list. Softwareworld's top-rated list identifies the best accounting software service providers through extensive research and careful selection. SkyStems flagship solution, ART, was named one of Softwareworld's Top Rated Finance and Accounting software for helping businesses continuously become more efficient and productive with their financial processes.
Softwareworld's 2019 list score is based on user satisfaction (reviews & ratings), social media buzz, online presence, and other relevant information. All software products listed were the result of Softwareworld's research techniques and the ability to assess the best software solution providers from amongst the thousands of options available in the market today. See the complete list here.
"Being listed as Softwareworld's 2019 Top Rated Finance and Accounting Software is very important to us as we strive to be the most customer-centric and best value solution of its kind," said Shagun Malhotra, CEO and Founder of SkyStem. "Our loyalty with our customers is a top priority as we've always had a near perfect review and customer support rating."
About Softwareworld
SoftwareWorld is a credible research and Intelligence company that helps businesses make sound technology investment decisions by bringing forth information on the best and the most preferred software service providers. The parameters that we use to compare one software solution provider with the others are based on industry insights, market research, and consumer feedback. We use parameters like flexibility, customization, price, usability, practicality, integrative abilities, etc.
About SkyStem LLC
Headquartered in the heart of New York City, SkyStem delivers a powerful close and account reconciliation application for organizations seeking to streamline their financial processes. The company's flagship solution, ART, is an enterprise technology that helps CFOs and Controllers shorten the month-end close and the time to issue financials by automating balance sheet reconciliations, managing month-end tasks, and providing insightful reporting. The web-based solution streamlines and eliminates up to 90% of manual activities while strengthening internal controls and corporate governance.