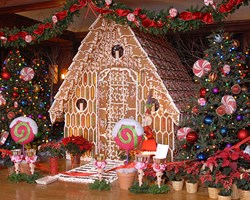 This year's design will be the most spectacular (and delicious) in Skytop's history. - Christa Kuhar, Pastry Chef
Pocono Mountains, Pennslyvania (PRWEB) October 10, 2013
Skytop Lodge announces the grand opening of the life size, edible Gingerbread House on November 1, 2013 at 3pm EST. The Gingerbread House will be open from November 1 - December 31, 2013 for children and adults to experience, dine inside, take photographs, and see Santa Claus during Christmas for storytelling.
Ideas for the Gingerbread House concept and design began back in June 2013, and 300 man hours will be required to complete the project. The windows are made of sugar glass, and the structure is 12 feet tall by 17 feet wide, with over 10,000 pieces of Gingerbread, 1, 000 pounds of candy, and 2,000 pounds of icing. Unlike years past, guests can now physically walk through the house, have formal dining events inside of it, and enjoy it's grandeur.
The Gingerbread House is one of many amazing Holiday Events at Skytop Lodge this season. Other events include a real North Pole on the North Porch, Feeding Reindeer, Tree Lighting Ceremonies every Friday night at 8:15pm EST, Roasted Chestnuts by the Fire, and Holiday Carolers.
About Skytop Lodge:
Opened in 1928, the majestic Skytop Lodge sits atop a hill surrounded by 5,500 acres of lush landscape, including an 80 acre lake, championship golf course, and exquisite gardens. The resort boasts multiple restaurant & dining outlets, 193 guest rooms, a modern conference center, and world renowned adventure center offering boating, skiing, ice-skating, zip lining, rock climbing, tennis, volleyball, extensive nature trails, and more.