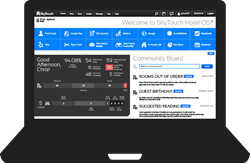 Our booth will be a hub of activity for those seeking a better hotel operating environment...
Phoenix, Arizona (PRWEB) June 02, 2015
SkyTouch Technology will exhibit with a "Texas-size presence" at HITEC 2015, the world's largest hospitality technology show, June 15-18 in Austin, Texas. SkyTouch will reveal new product features for its SkyTouch Hotel OS platform and a "behind the curtain" preview of future enhancements, along with hosting a luncheon for industry leaders and a not-to-be-missed VIP party. In addition, SkyTouch Senior Director of Enterprise Architecture and Research Larry Gorman will present a Tech Talk on the impact of EMV (Europay, MasterCard and Visa) on the hospitality industry.
SkyTouch Hotel OS feature enhancements that will be detailed at HITEC include:

Timely readiness of EMV, a global standard for cards equipped with computer chips and the technology to authenticate chip-card transactions
A guest experience feature to leverage customer preference and loyalty data from SkyTouch Hotel OS
A customizable welcome screen that will increase user productivity through customer-defined links and branded messaging
Enriched cross-property guest profiles that link to social profiles
SkyTouch Technology helps hotel companies achieve "Growth Without Limits" with SkyTouch Hotel OS, the most widely used cloud-based hotel operating system supporting 6,000 properties and 60,000 users worldwide. The flexible platform helps hotel companies achieve growth, whether the desired goal is 10, 100, or 1,000s of hotels. SkyTouch has proven its ability to deliver high standards for customer service, performance, resilience and security in the cloud resulting in an enhanced guest experience. Born from the hospitality industry for the hospitality industry, the scalable, integrated platform was built on the "RISE" principle to be reliable, intuitive, simple and economical.
"We are excited to impact HITEC attendees with our new product feature announcement, and our 'sneak peek' into what's in store for SkyTouch Hotel OS," said Michael Fameli, SkyTouch Technology Vice President, Product Services and Delivery. "Our booth will be a hub of activity for those seeking a better hotel operating environment, and we're excited to continue our tradition of making our VIP events the talk of the show."
About SkyTouch Technology:
SkyTouch Technology provides a cloud-based hotel operating system that helps hotel companies meet their most important strategic objectives: to achieve growth, to advance operating performance and to improve the guest experience – all while evolving with changing customer needs. Accessible from anywhere, SkyTouch provides visibility and control of operations through real-time, impactful business analytics that can improve hotel guest experience, decision-making and results at the property, owner, management company and brand level. For more information about SkyTouch Technology, visit http://www.skytouchtechnology.com and Booth 337 at HITEC 2015.