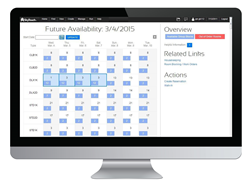 "We're committed to our customers' long-term growth and are here to serve as a true partner in innovation."
Phoenix, Arizona (PRWEB) March 17, 2015
SkyTouch Technology, provider of the most widely used cloud-based hotel operating system, has announced the release of multiple features to its SkyTouch Hotel OS® platform. The addition of these features comes on the heels of 50 customer-driven features released in 2014 aimed at helping hotel companies maximize revenue, operate more efficiently, and improve the guest experience. Because its architecture is flexible and scalable, SkyTouch has the unique ability to continually expand and refine its system to address current and future needs of its more than 58,000 users in more than 5,900 hotels worldwide. SkyTouch Hotel OS features are deployed to all customers with virtually no downtime.
The latest SkyTouch Hotel OS features are designed to provide additional value by elevating operational performance while improving the guest experience for hotel companies. Key features include:

Enhanced Guest Profile: Improves the guest experience by easily managing and sharing valuable guest information, including guest photo, special occasions and requests, and preferences across multiple properties.
Quick Sell: Help improve operating performance and maximize revenue by offering the best available rate through an optimized reservation process which provides an "at-a-glance" view of future availability.
Social Media Engagement: Increase property brand exposure over social media networks and drive guest engagement by sharing social media links on folios and confirmation letters.
Business on the Books: Help improve forecasting, decision-making and results through enhanced reporting on critical information such as occupancy, average daily rate (ADR), revenue per available room (RevPAR), and more.
"We are working closely with our rapidly growing customer base to identify exciting opportunities – Quick Sell and Business on the Books features are examples of SkyTouch's responsiveness to customer needs," explains Michael Fameli, SkyTouch Vice President of Product Services & Delivery. "We're committed to our customers' long-term growth and are here to serve as a true partner in innovation."
About SkyTouch Technology
SkyTouch Technology, provider of the most widely used cloud-based hotel operating system, allows hotel companies to meet their most important strategic objectives: to achieve growth, to advance operating performance and to improve the guest experience – all while evolving with changing customer needs. Accessible from anywhere, SkyTouch provides visibility and control of operations through real-time, impactful business analytics that can improve hotel guest experience, decision-making and results at the property, owner, and management company and brand level. For more information about SkyTouch Technology, visit http://www.skytouchtechnology.com.
SkyTouch, SkyTouch Technology, SkyTouch Hotel Operating System and SkyTouch Hotel OS are proprietary trademarks and service marks of SkyTouch Solutions, LLC.
©2015 SkyTouch Solutions, LLC All rights reserved.