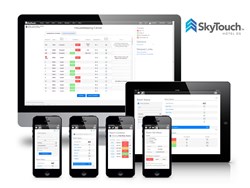 SkyTouch enables ownership, management and housekeeping to all communicate properly with this easy mobile application.
Phoenix, AZ (PRWEB) November 22, 2013
SkyTouch Technology, which offers the most widely distributed cloud-based property management system in the lodging industry, has launched new mobile-native interfaces for its SkyTouch Hotel OS property and rate management system.
In properties with SkyTouch Hotel OS, housekeepers can now use a smartphone to manage room assignments, report room status in real time, and flag maintenance, inventory or other room needs. The SkyTouch project team that developed the new functionality was led by Chris Weipert, who has more than 20 years of experience in hospitality operations, including hands-on involvement in housekeeping responsibilities.
"The mobile housekeeping feature allows front-desk staff to see the status of rooms in real time and improves the productivity of housekeeping staff through two-way communication," said Charlie Green, Director of Product Management at SkyTouch Technology. "A significant advantage with SkyTouch Hotel OS is its true cloud-based platform, which allows us to offer fast and secure mobile functionality to the major elements of property management, like housekeeping and managers' reporting."
The SkyTouch Hotel OS platform also includes a new mobile-native interface for property managers, allowing them to keep tabs on the big-picture operations of the hotel without sitting at their desks. The interface includes quick, mobile-friendly views of key operational data such as ADR, Occupancy, Availability for Tonight, Last Night as well as Period and Year to Date. If more detailed reporting is desired, the full reporting (desktop) experience can be accessed from their mobile device as well.
"Through the new mobile interface, property managers can stay plugged in to their hotels from anywhere, whether that's another property, the bank or a beach," said Ric Leutwyler, president of SkyTouch Technology. "Our customers identified this as a highly sought-after feature and it's one we believe will directly contribute to the bottom line by making it easier to manage properties while on the go."
"Even when I'm away I can still check in to see what's going on at the hotel," said John Santora III, General Manager at Salvatore's Garden Place Hotel, an Ascend Hotel Collection Member. "SkyTouch enables ownership, management and housekeeping to all communicate properly with this easy mobile application." Executive Housekeeper Jasmine Gates added, "So many tasks to manage throughout my day and this is one of the easiest."
The SkyTouch Hotel OS platform is a true cloud-based solution designed by hospitality professionals. It provides hoteliers with powerful property and rate management tools through a simple, intuitive interface accessible to any device with a web browser.
For questions regarding purchasing the SkyTouch Hotel OS solution for your property, please contact sales(at)skytouchtechnology(dot)com.
About SkyTouch Technology
SkyTouch Technology offers cloud-based technology solutions to help more than 5,500 hoteliers improve their efficiency and profitability. The SkyTouch Hotel OS system is an affordable, full-featured platform providing property and rate management tools in use by more than 50,000 hospitality professionals around the globe. The SkyTouch Technology team brings more than 1,000 combined years of hospitality industry experience and an award-winning training program to the marketplace – serving customers in seven countries. For more information about SkyTouch Technology, visit http://www.skytouchtechnology.com.