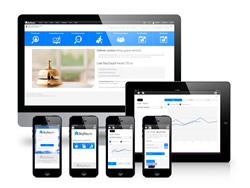 "I have used several hotel management tools and nothing is as powerful or as simple to use as the SkyTouch Hotel OS platform..."
Phoenix, AZ (PRWEB) October 03, 2014
SkyTouch Technology, provider of the most widely used cloud-based PMS for hotels, today announced that it will be presenting its innovative SkyTouch Hotel OS platform at the Asian American Hotel Owners Association (AAHOA) Independent Hotelier Conference on October 7th in Artesia, Calif. AAHOA invited SkyTouch to share its solution with independent hoteliers who can benefit from using the platform to help gain an advantage in the highly competitive hospitality marketplace.
The SkyTouch Hotel OS platform offers hoteliers an integrated PMS solution with centralized control and management from any mobile device. Hotel property managers gain access to real-time financial monitoring and housekeeping management functions to help streamline operations, including customized reporting, rate and distribution management, and more than 100 interfaces. The SkyTouch Hotel OS solution is currently the most widely distributed cloud-based hotel operating system in the industry, implemented in more than 5,700 hotels of all types and sizes around the globe.
"We recognize that independent hoteliers face unique challenges and we are focused on helping them increase their profitability and efficiency while decreasing their upfront and ongoing expenses," said SkyTouch VP of Sales, Shane Platt. "The AAHOA membership represents approximately 12,500 independent hoteliers owning more than 20,000 hotels and we are honored to have the opportunity to directly connect the SkyTouch Hotel OS platform with this audience who can truly benefit from our solution."
"I have used several hotel management tools and nothing is as powerful or as simple to use as the SkyTouch Hotel OS platform," said AAHOA Board Member and Committee Chairperson Tina Patel. "I'm happy to recommend SkyTouch at this conference to help more of my colleagues learn how they can manage rates and monitor essential functions more efficiently. With SkyTouch, there's no need to go to three or four different places and we gain the ability to log in and access key data right from any mobile device!"
About SkyTouch Technology:
SkyTouch Technology offers world-class cloud-based technology solutions helping more than 5,700 hoteliers improve their efficiency and profitability. The SkyTouch Hotel OS solution is an affordable, full-featured platform providing property, rate, and distribution management tools in use by more than 58,000 hospitality professionals around the globe. The SkyTouch Technology team brings more than 1,000 combined years of hospitality industry experience and an award-winning training program to the marketplace .For more information about SkyTouch Technology, visit http://www.skytouchtechnology.com.
SkyTouch, SkyTouch Technology, SkyTouch Hotel Operating System and SkyTouch Hotel OS are proprietary trademarks and service marks of SkyTouch Solutions, LLC.
©2014 SkyTouch Solutions, LLC All rights reserved.