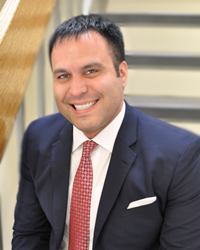 With the addition of Jacob, we are ready to take a bold approach by making the SkyTouch Hotel OS solution more accessible to hoteliers and resellers worldwide.
Phoenix, Arizona (PRWEB) August 22, 2014
SkyTouch Technology, provider of the most widely used, cloud-based property management system with more than 5,600 successful installations in hotels worldwide, is furthering its expansion beyond North America. To lead this international growth initiative, SkyTouch Technology has brought on Jacob Buckstead, a 15 year veteran of the international hospitality technology space, who is now serving as Vice President of Client Partnerships.
Ric Leutwyler, President of SkyTouch explains, "Our platform is already an established solution in more than 450 properties outside of the U.S., under the choiceADVANTAGE brand. With the addition of Jacob, we are ready to take a bold approach by making the SkyTouch Hotel OS solution more accessible to hoteliers and resellers worldwide. Jacob will lead the charge in expanding our customer base by growing existing relationships and establishing new connections with key international sales, service, and support partners in countries around the world."
Jacob Buckstead, a recognized thought leader and innovator in the hospitality industry, has extensive experience working with some of the world's largest hotel brands and ownership groups, including, Marriott, Hyatt, Starwood, Accor and others. He has also been a featured speaker and panelist at major technology conferences around the world, including the Hospitality Industry Technology Exposition (HITEC), International Hotel Technology Forum (IHTF), Hotel World Australia, and more. Jacob has led industry-wide efforts to establish open technology standards that enable greater interoperability amongst vendors, thereby providing more comprehensive systems and lower costs for hoteliers. In addition to his hospitality experience, Jacob has co-invented technology products, including a patented connection interface for hotel guests' mobile devices.
Jacob Buckstead describes his role, saying, "I am incredibly excited about helping international customers use the SkyTouch Hotel OS platform to optimize their operations, grow their revenues, deliver outstanding service to their guests, and have a long-term solution for their future growth. At SkyTouch we put our customers' needs first and build our product and operations around that. I'm proud to be part of a company that is setting the standard for service-centric hotels managing global properties."
About SkyTouch Technology:
SkyTouch Technology offers cloud-based technology solutions helping more than 5,600 hoteliers worldwide improve their efficiency and profitability. The SkyTouch Hotel OS solution is an affordable, full-featured platform providing property, rate, and distribution management tools used by more than 50,000 hospitality professionals around the globe. The SkyTouch Technology team brings more than 1,000 combined years of hospitality industry experience and an award-winning training program to the marketplace – serving customers in seven countries. For more information about SkyTouch Technology, visit http://www.skytouchtechnology.com.