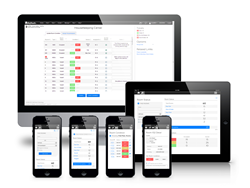 ...this panel discussion will focus on sharing insights into the issues and decision factors surrounding their hotel PMS.
Phoenix, Arizona (PRWEB) November 25, 2014
SkyTouch Technology, leading provider of the most widely used cloud-based property management system (PMS) for hotels, has been invited by The Vantage Hospitality Group, a hotel membership organization with a global network of hotels, to participate at this year's International Educational Conference & Trade Show. The event will take place at the Hard Rock Hotel & Casino in Las Vegas, December 8 – 12. SkyTouch will be presenting its SkyTouch Hotel OS solution and participating in an educational panel discussion on the topic of cloud PMS technology. As a preferred vendor, SkyTouch is one of a select few PMS solutions recommended by Vantage to its network of 1,000-plus hotel members.
At the conference, SkyTouch will demonstrate the full functionality of its Hotel OS platform while introducing attendees to its new SynXis CRS interface feature that gives users the ability to increase their reservation capabilities and gain greater distribution of inventory to leading online travel agencies (OTAs) and booking engines. In addition, Nic Jones, Senior Director at SkyTouch, will participate as a panelist for an educational seminar on property management technology. The session will be moderated by Peter Casey, Senior Brand Manager at Vantage Hospitality Group. Discussion points will range from general PMS selection criteria to complex features and functionality.
"Keeping in line with Vantage's philosophy to provide our members with comprehensive resources and information that allow them to be 'in business for themselves, not by themselves,' this panel discussion will focus on sharing insights into the issues and decision factors surrounding their hotel PMS," said Peter Casey, Senior Brand Manager with Vantage Hospitality. "With the experience that SkyTouch offers in cloud-based PMS technology, Nic's participation on the panel will help shed light on a topic that is important to our hoteliers as they consider all their options when voting for a centralized PMS."
Interested attendees can register here: http://www.vantagehospitality.com/conference/index.cfm?page=index
About SkyTouch Technology:
SkyTouch Technology offers cloud-based technology solutions helping more than 5,700 hoteliers improve their efficiency and profitability. The SkyTouch Hotel OS solution is an affordable, full-featured platform providing property, rate, and distribution management tools in use by more than 58,000 hospitality professionals around the globe. The SkyTouch Technology team brings more than 1,000 combined years of hospitality industry experience and an award-winning training program to the marketplace – serving customers in seven countries. For more information about SkyTouch Technology, visit http://www.skytouchtechnology.com.
About Vantage Hospitality Group, Inc.
Headquartered in Coral Springs, FL, Vantage Hospitality Group, with over 1,000 hotels independently owned and operated, is the only hotel company to be ranked on the 2006, 2007, 2008, 2009, 2010, 2011, 2012 and 2013 Inc. 500/5000 List of America's Fastest-Growing Private Companies. Vantage Hospitality's first hotel brand, Americas Best Value Inn, is a leader in the limited-service segment (including Value Inn Worldwide and Canada's Best Value Inn) throughout North America and is the world's 10th largest hotel chain.
SkyTouch, SkyTouch Technology, SkyTouch Hotel Operating System and SkyTouch Hotel OS are proprietary trademarks and service marks of SkyTouch Solutions, LLC.
©2014 SkyTouch Solutions, LLC All rights reserved