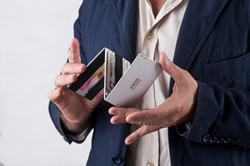 We're planning to have a big final week, and we're calling on our backers to share SLAB with their friends.
Montreal (PRWEB) February 26, 2014
With just one week left for backers to support the campaign on Kickstarter, the SLAB ultimate travel wallet has garnered $6,515. SLAB provides a solution to help frequent travelers avoid theft by compartmentalizing bills and cards in such a way that ensures they aren't "flashing their cash." Those interested have until the morning of Wednesday, March 5 to back the SLAB project.
"We're so thankful for all of the support for our campaign to this point," Pashkov said. "We're planning to have a big final week, and we're calling on our backers to share SLAB with their friends. Although we aren't quite where we need to be with funding, we're still confident that we can get SLAB off the ground – it's a great product."
For those who haven't been following the campaign, SLAB is a magic metal wallet made of the customer's choice of Aluminum or Titanium and held together with high quality elastic bands that come with free lifetime replacement. At just 11 millimeters thick, SLAB's design encourages carrying essentials smarter while traveling, with precisely carved slots for two credit cards, two SIM cards, and two MicroSD cards.
The design, which is clearly demonstrated in the video on the Kickstarter campaign page, allows users to store large bills in one compartment, while placing smaller bills in another compartment. Vlad was inspired to create SLAB because of his own experience living and traveling abroad. After a policeman increased Pashkov's fine when he happened to see a few of the larger bills in his wallet, Pashkov decided there had to be a solution. Having had a love for wallet design for quite some time, this was ammunition for him to create a beautiful wallet with an equally great function.
Because the wallet itself is so slim, it is difficult for thieves to spot it in its carrier's pocket. Because of the way it functions, the user can open the compartment for small bills without brandishing the more valuable ones. SLAB is even RFID protected, so passersby can't steal card numbers.
In order to reach its goal of $18,000, the SLAB project needs to raise just over $11,000 in its final week. Backers still have six days to order SLAB, and there are still even a few early bird specials left for those interested. The SLAB three-plate wallet pricing starts at just $75. Pashkov also offers a single-plate SLAB mini starting at just $25 and a two-plate SLAB starting at $55.
For more information on SLAB, and to back the campaign, visit http://bit.ly/SLABKS. Also, like SLAB on Facebook and follow them on Twitter @slabwallet.
About SLAB
SLAB is the ultimate travel magic wallet that organizes money, credit cards, and even SD memory cards securely and compactly. Perfect for the frequent traveler, SLAB makes it easy to carry the money you need without flashing your cash and leaving you more vulnerable to theft. The thin three-plate metal design offers radio-frequency identification (RFID) protection, a feature that protects against identity theft done by electronic card readers. To learn more about SLAB, visit http://www.slabwallet.ca.