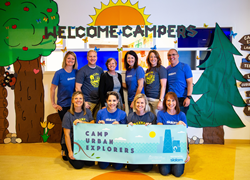 "We are grateful to join our friends at Lurie Children's again and help share the magic of summer camp!" -- Katie Morris, Managing Director, Slalom Chicago
CHICAGO (PRWEB) June 11, 2019
Slalom, the modern consulting firm focused on strategy, technology, and business transformation, today announced the second year of its sponsorship of Camp Urban Explorers, an eight-week summer camp program for inpatients and their families at Ann & Robert H. Lurie Children's Hospital of Chicago. The 2019 season of Camp Urban Explorers opens its doors to children ages 5-18 beginning June 12, 2019.
"This is our second year sponsoring the camp and we couldn't be more excited," says Katie Morris, Managing Director, Slalom Chicago, and Slalom's executive sponsor of the camp.
Each week, inpatient campers and their families will explore a different theme through interactive curriculum and activities – everything from astronomy to zoology. In addition to cosponsoring the camp with Lurie Children's, Slalom will cohost three of the eight weeks of camp, including a "Fun at Camp" kickoff week, a classic card and board game week, and even a science and technology week complete with an exciting engineering challenge.
"For many of us at Slalom Chicago, connecting with the campers, families, and staff at Lurie Children's was a really meaningful highlight of last year," says Morris. "We are grateful to join our friends at Lurie Children's again and help share the magic of summer camp!"
Camp programming will run in Lurie Children's Family Life Center and be co-facilitated by Lurie Children's School Services teachers, hospital staff, and volunteers. To create a truly memorable experience for the campers, several significant cultural institutions from across Chicago will provide additional curriculum, materials, and volunteers.
"Connecting patients and their siblings with unique experiences and adventures during hospitalization brings a sense of normalcy and moments of joy," says Susan Ruohonen, Senior Director of Family Services. "Camp Urban Explorers evokes a true zest for learning and camaraderie. We are most grateful to partner with Slalom to create another very special summer camp for our patients and their families."
About Slalom
Slalom is a modern consulting firm focused on strategy, technology, and business transformation. In 28 cities across the US, UK, and Canada, Slalom's teams have autonomy to move fast and do what's right. They're backed by regional innovation hubs, a global culture of collaboration, and partnerships with the world's top technology providers. Founded in 2001 and headquartered in Seattle, Slalom has organically grown to over 6,500 employees. Slalom was named one of Fortune's 100 Best Companies to Work For in 2019 and is regularly recognized by employees as a best place to work. Learn more at slalom.com.
About Lurie Children's
Ann & Robert H. Lurie Children's Hospital of Chicago is ranked as the top pediatric hospital in Illinois, and among the top ten children's hospitals in the U.S. in the U.S. News & World Report 2018-2019 Honor Roll rankings. Lurie Children's provides superior pediatric care in a state-of-the-art hospital that offers the latest benefits and innovations in medical technology, family-friendly design and research through the Stanley Manne Children's Research Institute. The main hospital is located in downtown Chicago on the campus of its academic partner, Northwestern University Feinberg School of Medicine. Lurie Children's has a network of 13 outpatient centers and 15 partner hospitals, providing top pediatric care across the greater Chicago area. Lurie Children's relies on philanthropic support to care for nearly 213,000 children each year. Learn more at luriechildrens.org.
To learn more, or to arrange an interview with Slalom, please contact Amber Heinrich at amberh@slalom.com or 847.682.6612.