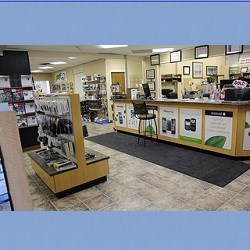 One lucky winner will receive FREE Internet Service throughout 2014! Enter today!
Slave Lake, AB (PRWEB) November 25, 2013
Slave Lake Communications is putting on a contest starting on November 25, 2013 – and running until Noon on December 31, 2013 – one lucky winner will get free Internet service for an entire year. In order to enter, contestants will need to write a review about their experience with Slave Lake Communications. This can be done on the company's website testimonial page, and also on their Facebook page. The lucky winner can get a years' worth of free Internet service by putting in just a few minutes of their time to share their Slave Lake Communications experience - some restrictions apply, see the website for full details.
Slave Lake Communications is a locally owned family business. The Brownlee's have been fixtures in the Telecommunications and Internet industry since 1976. They greatly appreciate all of their loyal customers and want to attract new customers who have not yet experienced their friendly, prompt, and professional service. They pride themselves on friendly, local customer service.
As the Internet plays a bigger and bigger part of most people's lives, Slave Lake Communications realizes the power of the Internet is a big part of their own success. That is why they are offering this contest, because every business appreciates great customer testimonials and reviews. We welcome all feedback because that allows the company to address potential issues and continue progressing positively as a staple of the Slave Lake community.
Some ideas to write about include:
1. Why did you choose Slave Lake Communications?
2. How was your installation experience?
3. How does the company react to problems/ interruptions of service?
4. Why would you recommend Slave Lake Communications over another company?
5. Was there any time that the technicians from Slave Lake Communications provided outstanding customer service?
This is Slave Lake Communication's way of giving back to all of their loyal customers in Slave Lake and surrounding areas including but not limited to: Swan Hills, Smith, Red Earth, Calling Lake, Wabasca and most areas in between. The winner will be announced at the beginning of next year after the close of the contest on December 31, 2013. Slave Lake Communications also has a Facebook page and urges their customers to "Like" the page to keep up with upcoming contests, specials, and announcements. Remember, you can't win the contest if you don't enter!
Related News:
Slave Lake Communications Now Offering Low Cost VoIP Phone Service to Local Customers
Related Search Phrases:
[Internet Contest] [Free Internet Service] [Telecommunications] [Slave Lake Communications] [Google Trending] [Breaking News] [Local Contests]
Related Hashtags:
#InternetService #SlaveLake #LocalContests #Telecommunications #GoogleTrending #BreakingNews