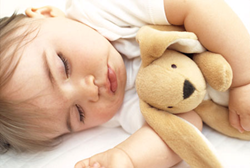 Panama City Beach, FL (PRWEB) August 07, 2013
According to a May 11 post on the American Academy of Pediatrics website, sleep apnea is a common problem that affects an estimated two percent of all children, including many who are undiagnosed. Read more: http://www.healthychildren.org/English/ages-stages/baby/sleep/pages/Sleep-Apnea-Detection.aspx?nfstatus=401&nftoken=00000000-0000-0000-0000-000000000000&nfstatusdescription=ERROR%3a+No+local+token.
In children younger than five years, symptoms of sleep apnea include breathing from the mouth, sweating, restlessness and waking up frequently during the night. Children older than five tend to experience hyperactivity, poor academic performance, hostility, bedwetting, slow growth, short attention span and may sleep in unusual positions.
When left untreated, sleep apnea can affect part of the brain involved in learning, thwarting cognitive function and academic performance. Sleep apnea can also alter normal growth patterns and contribute to childhood obesity. The new research published by the American Academy of Sleep Medicine reveals that obstructive sleep apnea (OSA) may lead to long-term health complication such as hypertension, high blood pressure and heart disease that become present during adulthood. Read more: http://www.aasmnet.org/articles.aspx?id=3935
There are several nonsurgical ways to treat mild to moderate obstructive sleep apnea. However, there is a breakthrough in the treatment of craniofacial/airway enhancement; the DNA Appliance created by Dr. David Singh. The DNA Appliance alters the size of the oral cavity permanently, thus providing an ample increase in airway dimension. It is a non-intrusive and comfortable device that is worn evenings and nights and can be fitted with an extension loop that holds the soft tissue in place when sleeping.
Emerald Coast Dental Sleep Medicine's Dr. Tara Griffin is only one of 14 dentists certified in the state of Florida to offer the DNA Appliance on patients. Call today for a complimentary consultation and for more information regarding the DNA Oral Appliance.
About the company:
Emerald Coast Dental Sleep Medicine's mission is to exceed their patients' expectations in providing exceptional care and service. Tara Griffin DMD, PA wants her patients to know that in their office, they can expect to be treated with respect at all times. ECDSM strives to deliver the best diagnosis and treatment that dentistry has to offer. They believe that these goals can be met through a continuous and open dialogue between the patient and the entire team. Dr. Griffin practices general dentistry and Dental Sleep Medicine, treating sleep disorders and sleep apnea. For more information, please visit their website at http://www.ecdsm.com