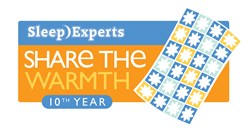 November is our favorite time of the year, when we come together as a community to give the gift of warmth and comfort to families in need.
Dallas, Texas (PRWEB) October 23, 2013
Do you have any extra blankets around the house? Mattress retailer Sleep Experts asks that you consider donating them to families in need during the 10th annual Share the Warmth Blanket Drive. Sleep Experts will be accepting donations of new and gently used blankets, sheets, comforters, towels and pillows at all 55 locations throughout North and Central Texas, October 28th through Thanksgiving Day.
The 2013 Share the Warmth Blanket Drive benefits The Family Place in Dallas and SafePlace in Austin, as well as other domestic violence shelters in North and Central Texas. Blankets collected during the drive will be delivered in December to these shelters, to keep their families warm this winter season.
Sleep Experts will receive a helping hand from thousands of Girl Scouts representing three Texas Girl Scout councils - Northeast Texas (Dallas), Texas Oklahoma Plains (Fort Worth) and Central Texas (Austin). Girl Scout troops participate by collecting blankets in their own communities and will earn special Share the Warmth community service badges.
"November is our favorite time of the year, when we come together as a community to give the gift of warmth and comfort to families in need," said Christine Cook, Wife, Mom and President of Sleep Experts. "As we celebrate 10 years of Sharing the Warmth, we hope to collect more blankets than ever before, with the help of the Girl Scouts."
"When victims come to The Family Place, our primary concern is to make our clients feel safe," said Paige Flink, Executive Director of The Family Place. "These blankets not only provide the warmth that these women and children require, but also give them the much-needed security that they desperately need to have a life free from violence."
About Sleep Experts
Sleep Experts is a mattress specialty retailer with 55 stores in North and Central Texas. The company has become one of the fastest growing mattress retailers in the U.S. by creating a strong culture focused on serving the customer and the community. Sleep Experts has been recognized seven times as a Best Place to Work, earned distinction as an Inc. 5000 company, and is a winner of the Greater Dallas Business Ethics Award. Sleep Experts shares the gift of sleep with families in need by donating customers' old mattresses to local non-profit organizations. For more information, visit http://www.sleepexperts.com or call (888) 55-SLEEP.
About Girl Scouts
Girl Scouts is the premier leadership organization and the largest pipeline for female leadership. Girl Scouting builds girls of courage, confidence and character, who make the world a better place. Girl Scouts serves 3.2 million girl and adult members worldwide. For more information on how to join, volunteer, reconnect, or donate to Girl Scouts visit http://www.girlscouts.org.