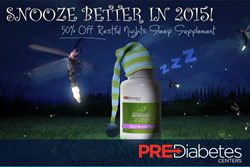 Austin, TX (PRWEB) January 12, 2015
PreDiabetes Centers, a rapidly growing company that specializes in prediabetes and early-stage type 2 diabetes treatment, is proud to offer PreD Store shoppers generous 2015 savings and is slashing the price of PreD Restful Nights, a powerful dietary supplement, by 50%.
Regularly sold for $22.99, PreD Restful Nights is a specially formulated natural sleep nutraceutical designed to relax, calm and enhance sleep. The nutraceutical formula includes melatonin, taurine, L-theanine, 5-HTP, and GABA (gamma-aminobutyric acid).
PreD Store shoppers can redeem the discounted PreD Restful Nights for just $11.49 using the coupon code REST2015 at checkout. The offer expires January 31.
A good night's rest is vital to good health. It boosts immunity and promotes physical and mental health, and also plays an important role in the development–and reversal–of prediabetes and diabetes.
So what's the connection between sleep and diabetes?
Lack of sleep can prevent the body from using glucose for energy and result in high blood sugar, which raises risk for diabetes. Whether a person has chronic insomnia or the occasional sleepless night, getting quality sleep is critical for improving health and lowering diabetes risk.
Another finding is that sleep deprivation causes changes in hormone levels and nervous system activity. People who are sleep deprived have increased levels of cortisol in the evening, which in turn can cause morning insulin resistance, say researchers.
Nutritional supplements can be an important tool to promote sleep and prevent the development of diabetes.
Supplementing with melatonin can help promote sleep and return to sleep after waking in the night, say MIT researchers. L-theanine and 5-HTP are also helpful in improving quality of sleep and may be an effective treatment for sleep disorders such as insomnia, according to research.
The PreD Store sells PreD Restful Nights and other dietary supplements designed to help treat health conditions and deficiencies that are common in people with prediabetes. Boosting the body's store of vitamins and minerals can help treat conditions related to prediabetes, prevent poor nutrition and help enhance a person's metabolic health.
More than 86 million Americans have prediabetes, but just 7% of sufferers are aware of their condition.
People who feel they may be at risk for diabetes can take an online Diabetes Risk Survey, or call 1-855-399-7733 to schedule a complimentary blood test at a local PreDiabetes Center.