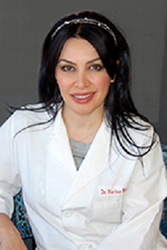 Los Angeles, CA (PRWEB) January 23, 2015
Los Angeles sleep apnea treatment expert, Dr. Marine Martirosyan, is now offering oral appliances for treatment of mild to moderate sleep apnea. Oral appliances are becoming an increasingly popular alternative to CPAP therapy when it comes to sleep apnea treatment. Sleep apnea is a chronic sleep disorder that has been associated with daytime fatigue, depression, obesity, diabetes, and cardiovascular disease. It is believed to affect about 12 million Americans. Although CPAP machines remain the gold standard in treating severe obstructive sleep apnea, oral appliances offer an easy-to-use alternative for patients with mild to moderate sleep apnea.
Dr. Marine Martirosyan uses a variety of sleep apnea dental appliances, including:

Snap Fit Telescopic Herbst
Tap 3 Elite
Silencer
Respire
Tap 1
Day Splint
Rickets or Tanner
Serrano Sleeper
EMA
Sleep Herbst
Gelb Splint
Deprogramer
She chooses an oral appliance based on a specific patient's needs, oral structure, symptoms, and additional issues, such as bruxism or snoring. These appliances fit much like a mouth guard but are fully customized for greater comfort and effectiveness. According to Dr. Martirosyan's team, "Oral appliances are small, flexible sleep apnea devices that look like mouthguards. They increase the airway space and reduce air velocity and soft tissue vibration by moving the lower jaw into a forward position. Patients who have tried both say that oral appliances are more comfortable to wear, easier to care for and very cost-effective." Dr. Martirosyan works closely with patients to identify the best oral appliance for their needs and to fit it properly for the best results.
About Dr. Marine Martirosyan, Expert in Oral Appliance for Sleep Apnea Los Angeles
Dr. Martirosyan graduated from the University of Southern California and later served as a clinical faculty member at her alma mater. She has completed advanced training at the prestigious Las Vegas Institute for Advanced Dental Studies. She is known for her knowledge, her professionalism, and her artistic skills, and she maintains a consistently high attention to detail in her work. Today, Los Angeles sleep apnea dentist Dr. Martirosyan is a member of the American Academy of Dental Sleep Medicine, the American Dental Association, the American Academy of Cosmetic Dentistry, and the American Academy of Laser Dentistry.