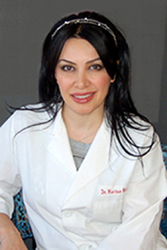 Pasadena, CA (PRWEB) December 22, 2014
Pasadena sleep apnea dentist, Dr. Marine Martirosyan, is now offering consultations for sleep apnea. Drowsy drivers are 15 times more likely to cause deadly car crashes than drivers who are well-rested, and some experts believe that sleep-deprived drivers may be just as dangerous on the roads as intoxicated drivers. Unfortunately, millions of Americans may be sleep-deprived without even knowing it. According to the American Academy of Sleep Medicine, about 18 million Americans have sleep apnea, but as many as 80 percent of them are undiagnosed and untreated.
Those who may benefit from a consultation with Dr. Martirosyan include people who:

Snore loudly
Feel tired after a full night of sleep or who find themselves falling asleep during the daytime
Choke or gasp for air while they sleep
Wake frequently to urinate
Have insomnia
Wake with a headache, sore throat, or dry mouth
Sleep apnea occurs when the muscles of the throat relax, allowing the tissues to collapse and block the airways. This reduces oxygen levels and can cause loud snoring or breathing cessation. The body briefly rouses to reopen the airways, which keeps people from sleeping as soundly as they could. Pasadena dentist, Dr. Martirosyan, offers many treatments, including sleep apnea oral appliance therapy. "Oral appliances are a front-line treatment for snoring and mild to moderate sleep apnea," according to her team. The device is comfortable and easy to use, and most patients adapt quickly. A consultation with Dr. Martirosyan allows patients to learn more about the condition and determine their candidacy for oral appliance therapy or other treatments.
About Dr. Marine Martirosyan, Expert in Sleep Apnea Test Pasadena
Dr. Marine Martirosyan attended the University of Southern California, from which she received her degree in 1996. She continued her commitment to excellence in dentistry and advanced education when she became a clinical faculty member at USC. A top Pasadena sleep apnea treatment dentist, Dr. Martirosyan is known for her attention to detail, high standards of care, and warm, friendly chair-side manner. She incorporates the latest techniques into her practice and has earned various certifications, honors, and degrees in the various branches of dentistry. Today, Dr. Martirosyan is an active member of the California Dental Association, the American Dental Association, the American Academy of Cosmetic Dentistry, the Academy of Laser Dentistry, the Academy of Osseointegration, and the American Academy of Dental Sleep Medicine.