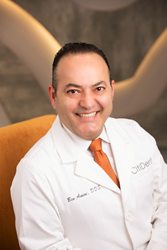 San Francisco, CA (PRWEB) September 12, 2017
An estimated 20 percent of Americans suffer from sleep apnea, but many of them do not know it. This number includes about 9 percent of middle-aged women and 25 percent of middle-aged men. Untreated sleep apnea can have serious and even life-threatening consequences for a person's health. San Francisco dentist Dr. Amini and CitiDent offer elite treatments for sleep apnea.
In patients with sleep apnea, sleep is disrupted when the air passages are obstructed during sleep. This not only deprives their bodies of essential oxygen but also of sleep. Each time they stop breathing, their brain rouses briefly to reopen their airways. Because the airways can become obstructed hundreds of times a night, their sleep can be extremely fragmented, leaving people with sleep apnea feeling tired or irritable during the daytime hours. Sleep apnea sufferers might get superficial sleep, but they may spend little or no time in the deeper, more restful REM phases of sleep.
Sleep apnea can increase the risk of many serious problems, including:

High blood pressure
Heart disease
Type 2 diabetes
Obesity
Depression
Heart attacks and cardiac arrest
People with sleep apnea tend to suffer from a lack of concentration and can be more likely to fall asleep at inappropriate times, increasing their risk of car accidents. In fact, sleepy drivers are responsible for 100,000 car accidents, 40,000 crash-related injuries and more than 1,500 fatalities annually.
Treatments are available. Sleep testing is the first step in achieving a diagnosis. Dr. Amini and Dr. Cheng of CitiDent work closely with the Sleep testing facility where a sleep device can be sent to the patient directly to their home. The patient can then easily apply the device during sleep at the comfort of their own bed, and send back the device for reading and evaluation by a physician who specialized in Sleep Medicine. The results and recommendation for an oral appliance device is sent to CitiDent, if the patient is deemed to have sleep disorder. Dr. Amini, a premier San Francisco dentist, customizes a special dental appliance, to fit over the teeth. This positions the jaw in a way that widens the airway and prevents tissues from collapsing of the airway. Dr. Amini and Dr. Cheng work together to look after the patient once the sleep device is fabricated and worn by the patient. A new test is often done to measure the progress and see how the device has helped improve the patient's sleep disorder condition.
The device is 3D-printed using titanium and is light, weighing only 15 grams and can be easily used during travel without the hassle of bringing a CPAP. It is a great solution for patients who are non-tolerant and compatible with CPAP treatment.
A new test is often done to measure the progress and see how the devise has helped improve the patient's sleep disorder condition.
About Dr. Amini
Dr. Amini is a top San Francisco dentist and the founder of CitiDent. After completing his undergraduate studies at San Diego State University, Dr. Amini earned his DDS at the University of California, San Francisco, School of Dentistry. He is an assistant clinical professor at UCSF and an active member of the American Dental Association, the California Dental Association, The Academy of General Dentistry, the Academy of Osseointegration and the International Congress of Oral Implantology.