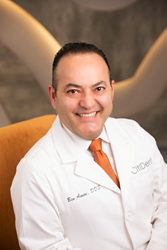 "The entire process is geared to be simple and easy to follow for our patients. This is an exciting time for our patients who are fatigued from sleeping problems and are intolerant to the CPAP machine."
San Francisco, CA (PRWEB) October 12, 2017
CitiDent and San Francisco dentists, Dr. Amini and Dr. Cheng, are now treating sleep apnea using cutting-edge Oventus O2Vent technology. As many as 18 million Americans are estimated to suffer from sleep apnea, a serious sleep disorder characterized by frequent cessation in breathing. Oral appliances can offer significant relief to about 75 percent of people with sleep apnea. The Oventus O2Vent is a revolutionary 3D-printed titanium device that is designed to prevent the tongue from collapsing over the airway.
The Oventus O2Vent has a patented design that is both easy to use and highly effective. Each mouth guard is custom-fitted for those with mild-to-moderate sleep apnea and those who cannot tolerate CPAP therapy. The guard incorporates Oventus Airway Technology, which is designed to act as a second nose for easier breathing all night long. As a breath is taken, air is pulled into the device and is passed directly to the pharynx. As the lower jaw is gently advanced with the device in place, the airway is opened more widely, allowing the air to pass through more freely and comfortably as the sleeper breathes. Three models are available for greater customization to each patient's needs.
To determine a patient's candidacy for the Oventus O2Vent, either San Francisco dentist Dr. Cheng or Dr. Amini might recommend a sleep test to ensure an accurate diagnosis and appropriate treatment recommendations.
"Sleep tests can be performed at home," says Dr. Amini of CitiDent. "Before the test, patients will be provided with detailed instructions. An at-home sleep test device will be shipped directly to the patient. The device will monitor critical events such as oxygen levels, apnea events, sleep patterns and other critical information. The patient never has to leave home or go to a sleep center."
After two evenings of sleep, the patient returns the device so the information can be decoded. Then a diagnosis is made by a sleep medicine physician. Once the patient is considered a good candidate for the oral appliance, an Oventus device can be fabricated and shipped to CitiDent for the patient to come in and get fitted. "The entire process is geared to be simple and easy to follow for our patients," says Dr. Cheng of CitiDent. "This is an exciting time for our patients who are fatigued from sleeping problems and are intolerant to the CPAP machine."
About Drs. Amini and Cheng
Dr. Amini, the founder of CitiDent, earned his DDS from the University of California, San Francisco, UCSF School of Dentistry, where he currently serves as a lecturer and an Assistant Clinical Professor. He is also a Clinical Instructor at the University of Pacific, School of Dentistry. Dr. Amini is a member of the American Dental Association, the California Dental Association, the Academy of General Dentistry, the Academy of Osseointegration, and the International Congress of Oral Implantology.
Dr. Cheng graduated from Harvard's School of Dental Medicine as a Doctor of Medical Dentistry. She completed her specialty training in Orthodontics and Craniofacial Orthopedics at the University of Minnesota. Dr. Cheng's exceptional skills were developed under some of the world's best orthodontists at both Harvard and the Mayo Clinic. In downtown San Francisco, she is 1 of 4 Certified Diplomates of the American Board of Orthodontics. Dr. Cheng treats both children and adults with obstructive sleep apnea.