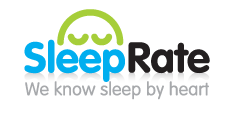 "The introduction of support for Android and insufficient sleep opens up the possibilities for sleep improvement for millions more people," said Uli Gal-Oz, CEO of SleepRate.
Palo Alto, Calif. (PRWEB) February 10, 2015
SleepRate, a company that helps people sleep better to improve their quality of life, today released its sleep improvement solution for Android. The solution is based on proprietary sleep analysis algorithms as well as Cognitive Behavioral Therapy for Insomnia (CBTi) protocols, a non-pharmacological approach recognized by the National Institutes of Health (NIH) as a "first line treatment" for insomnia.
In addition, SleepRate introduced a new treatment to help those suffering with insufficient sleep. People with insufficient sleep tend to have no problem getting to sleep or staying asleep, however, they do not get the sleep they need to keep them refreshed during the day. 40 percent of all people in the U.S. have insufficient sleep, a condition that could lead to serious health issues, such as diabetes or heart disease, and can lead to safety breaches at work or accidents on the road. Insufficient sleep was the leading cause for environmental disasters such as the meltdown at Chernobyl, the massive Exxon Valdez oil spill, and the nuclear accident at Thee Mile Island. The National Highway Traffic Safety Administration estimates that fatigue is a cause in 100,000 auto crashes and 1,550 crash-related deaths a year in the U.S. alone. The Center for Disease Control and Prevention calls insufficient sleep a public health epidemic.
SleepRate's insufficient sleep plan includes sleep educational materials regarding the importance of getting the optimal sleep time. SleepRate then guides and monitors the person through goals aimed at increasing time in bed, while evaluating daytime sleepiness and stress. SleepRate also offers help for those suffering with insomnia, Delayed Sleep Phases Syndrome (DSPS), or a mix of both.
"The introduction of support for Android and insufficient sleep opens up the possibilities for sleep improvement for millions more people," said Uli Gal-Oz, CEO of SleepRate. "The release today rounds out our suite of services to help the maximum number of people get the rest they deserve. We're working hard to bring even more options to our offering to help with every combination of sleep issues."
People with insufficient sleep or with Android devices can get SleepRate by visiting our store or Amazon. Android devices must run the Kit-Kat operating system or higher. The Sleep Improvement Kit is $99.99 and comes with the following:

Unlimited Sleep Monitoring and Sleep Analytics
A Sleep Assessment
Detection of sleep disruptions and snoring that occur with various sleep disorders
Sleep Improvement Plan
A Polar H7 Heart Rate Sensor
A smart alarm, to help people wake up at the right time in their sleep cycle to optimize how they feel when they wake up.
About SleepRate
Based in Palo Alto, California and Petach Tikva, Israel, SleepRate uses a smartphone and a heart rate monitor to accurately assess sleep issues, and offers an individualized sleep improvement plan, based on the Stanford University's CBTI protocols. This unique approach offers a level of insight, not currently available, in identifying the root causes of sleep issues and helping improve sleep. SleepRate currently offers the only solution that combines sleep analysis with steps to resolve sleep problems. The company has been founded and is led by leading experts in sleep medicine.