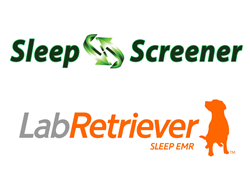 We feel this is a big step in the right direction integrating SleepScreener with a well-established and comprehensive sleep EMR platform such as LabRetriever.
Fort Myers, FL (PRWEB) August 29, 2013
Signature Sleep Services (dba Sleep 960) and SleepEx announced today they have agreed to integrate SleepScreener, a web based sleep screening and referral generation application with the industry leading LabRetriever™ sleep EMR platform. This integration will allow sleep patient referrals generated by SleepScreener, along with demographic and insurance information to flow directly into the LabRetriever™ sleep lab management database.
As reimbursement for sleep studies continues to drop, sleep centers are being squeezed to improve the bottom line by generating more referrals and running their facilities in a more efficient manner. The combination of these two web based applications now provides a direct electronic referral path into an EMR, eliminating any redundant data entry. This saves time with the referral process and reduces errors associated with manually entering patient information.
Integrating SleepScreener with LabRetriever™ will also provide a pathway into SleepLinkz, a new Sleep Medicine Delivery Platform currently under development by Sleep960. This will allow LabRetriever™ to connect with a variety of sleep related software applications and medical devices all sharing a common API connection. Patient information and data files transfer between the applications, increasing workflow efficiency and significantly reducing staff overhead.
"We feel this is a big step in the right direction integrating SleepScreener with a well-established and comprehensive sleep EMR platform such as LabRetriever™" says Michael Clark, VP of Sales and Business Development. "Sinking reimbursement rates are forcing sleep centers to closely monitor their bottom line so linking these applications will provide an effective way to generate patient referrals and manage the overall operation in more efficient manner."
"Our partnership with Sleep960 will open an avenue of efficiency for sleep professionals, a necessary tool for success in the current industry climate. Working together, we will offer an effective solution that identifies and keeps close track of referrals throughout the process, as well as securing patient information," says RJ Nicolosi, CEO of SleepEx. "The SleepEx team recognizes the continuing need for integration, partnerships and development opportunities to keep up with the ever-changing sleep industry."
About Signature Sleep Services LLC
Signature Sleep Services (dba Sleep960) is a sleep medicine resource company providing diagnostic & therapy products, consultation & management services and Polysomnography educational courses. The nucleus behind our company is a new Sleep Medicine Delivery Platform called "SleepLinkz". It is a consortium of sleep industry vendors that have contributed a number applications and devices with the unique ability to exchange patient information thus eliminating redundant data entry and dramatically decreasing staff workload.
About SleepEx
SleepEx is an independently-owned software company in its 13th year of providing Sleep Lab Management Software. With over 200 installed locations using our Lab, Patient and Data management solutions, we have applied our expertise to focus on the Sleep Medicine sector of the Health Care market. Installed in 25 states, we support over 2500 users, including administrators, technicians, scoring personnel, interpreting physicians, referring practices, and DME/HME personnel.
LabRetriever™ is a complete Web-based database and sleep lab workflow system with full-service PSG data and access management. This specialized medical record solution is a flexible and scalable system for any lab or group of labs and provides many of the necessary measurements needed for accreditation and to maintain HIPAA best practices.