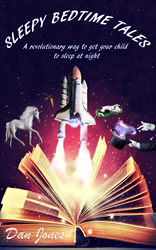 It's not just children that get to sleep with these stories, parent's do as well. These stories can give parents back their evenings, and their sleep.
Chichester, West Sussex (PRWEB UK) 30 September 2015
Dan Jones new book 'Sleepy Bedtime Tales' contains 11 bedtime stories that are tailored around his approach to getting children to sleep. All the stories follow a similar structure but are totally different tales; from 'The Rabbit Who Came to Tea', to 'The Princess and the Magical Kitten', and 'Adventure of a Time Travelling Worm'.
Growing up with Asperger's Dan struggled with social communication. Aged 14 he saw Paul McKenna on TV which triggered a deep fascination with hypnosis and how people communicate.
This fascination led to Dan making observations about human interactions, "it was like people were dancing," explained Dan "people would interact and start to copy each other, from breathing patterns, to body posture. There always seemed to be someone leading the dance. When the lead person changed their breathing, the other person altered their breathing moments later."
In the early 2000's Dan took what he had learnt and developed his 'sleepy bedtime' approach while working with children with emotional & behavioural difficulties. He taught the approach to other professionals and parents, and in 2006 wrote about the approach in his book 'Parenting Techniques That Work'.
The key elements of the approach are:

To read the stories slowly and with a relaxed voice in time with the child's breathing
To imagine yourself becoming sleepy, and yawn occasionally while you read
To give additional emphasis to highlighted words and phrases in the story
An mp3 download and written extract of the first story 'The Rabbit Who Came to Tea' can be found on the author's website.
Three top tips from 'Sleepy Bedtime Tales' to help get children to sleep:
1) Put the house to sleep - A few hours before your child is due to go to bed, start making the house quieter and more relaxed; turn down the lights, draw the curtains, and make everything quiet (like the TV)
2) Relaxing time before bed - A few hours before bed, start to focus on relaxation; have children do only relaxing and calm activities. This includes not having emotionally arousing TV or computer games on
3) Stroke your child on the arm or head in time with their breathing as they fall asleep - Stroke up as your child breathes in, and down as they breathe out. If they breathe fast, then stroke in time with two or three breaths at a time. Start the stroke on an in-breath, and start the downward stroke on an out-breath. After a while the stroking and the child's breathing will be in rapport with each other, at this point start slowing down the stroking and the child's breathing will slow down, and they will drift deeper asleep