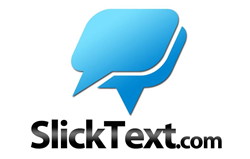 Jamestown, NY (PRWEB) August 04, 2014
Slicktext.com, a leader in the text message marketing space has just announced their plans to launch a new affiliate sales program.
Text message marketing, also known as SMS marketing or mobile marketing, is quickly becoming a stream of choice for business owners looking to communicate coupons and offers to their customers. It works by people texting a unique keyword to a short phone number to opt in to receive messages from the particular businesses they patronize. Then when businesses have specials or news they want to send out, they can simply do so by blasting out a text message to the fans that have opted in.
The new affiliate program that Slick Text will be offering allows people to sell others on their service while earning a monthly commission for their referrals.
CEO Matt Baglia said, "People have been asking for years when we'll create an affiliate program and we've now decided to make it happen. It will be a great source of traffic to our website while allowing people to make some money for their referrals. Everyone wins."
Slick Text is planning on launching their affiliate program early this fall. For more information on Slick Text and their text message marketing service, visit their website at http://www.slicktext.com.