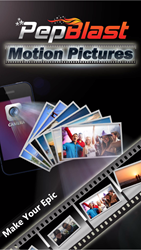 Our inspiration came from photographing celebrations of our space heritage at NASA Ames Research Center. I thought about how to translate that enthusiasm and blast of still images into pictures in motion with music. PepBlast was born from that dream.
Moffett Field, CA (PRWEB) April 06, 2015
Photozig, Inc. introduced its PepBlast Motion Pictures App to make amazing videos with pictures and music for iOS devices at the NASA Research Park today.
PepBlast mixes photos with music and makes awesome movie clips in just a few minutes. Users can make a slideshow, turn pictures into videos, and personalize movie with pictures with thousands of styles, backgrounds, and songs that come with the app. It is quick, easy and fun.
"Our inspiration for PepBlast came from celebrations of our space heritage at NASA Ames Research Center," said Bruno Kajiyama, CEO of Photozig. "For example, when photographing the Yuri's Night Bay Area event, we experienced a crowd of thousands of people looking at our space adventure, human spirit and exploration. It was an insane mix of technology, music and art. I thought about how to translate that enthusiasm and blast captured by still images into pictures in motion with art and music. PepBlast was born from that dream."
The PepBlast App allows users to choose an exciting movie template, select photos, and watch an instant movie preview with music. There are over a thousand movie templates, called PepBlast styles, ranging from Action and Sports to Romance and Love. Each PepBlast style has been carefully crafted with background, music, animations, color scheme, title font, etc. - everything that is needed for a great movie. There is no need to learn complicated software or acquire expensive movie assets. In addition, if users want to personalize a movie, they can change the background, song, animation and other advanced options.
PepBlast movies are created online by the PepBlast Cloud so that it can be shared through social networks easily. PepBlast also has its own social networking. Users can watch shared movies in a PepBlast feed, follow friends, allow others to follow their stream, and experience trending PepBlast movies.
The PepBlast team is developing new apps to make video with pictures and music, such as the PepBlast Motion Pictures Slide Show Maker with Music. Over the years, the technology to create video from photos has evolved from picture slideshow software to PepBlast movie app to make a video from pictures. The PepBlast app allows users to make a slideshow video or make a video with pictures in motion in exciting new ways. Users report that they can turn pictures into video quickly and easily. In order to make your own slideshow, or make your own video, PepBlast app offers a photo editor, easy-to-use tools, and other features to make beautiful short movies. This unique movie creator app to make video from photos is live in the Apple App Store. The video creator runs in the PepBlast cloud to make movies from pictures and share in social networks. PepBlast features a paid pro subscription, granting access to exclusive styles, backgrounds and songs, but thousands of movie assets and songs come free in the app.
See sample videos and get the PepBlast movie app at: http://www.pepblast.com
The PepBlast team cannot wait to see the amazing movies and slideshows with music created with this exciting movie maker.
About Photozig, Inc.
Photozig aims to provide "the best customer experience to enjoy, organize, and share lifetime memories." More information, photo software, and slideshow software at http://www.photozig.com.
Contact:
Gerardo Fernandez
Photozig, Inc.
650-694-7496 x5
info(at)photozig(dot)com