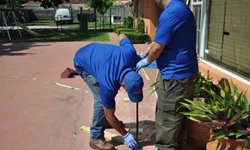 Our blog focuses on 'how to' and 'think piece' articles that can help homeowners maximize their value.
West Palm Beach, FL (PRWEB) June 11, 2015
Express Glass & Board Up, a top sliding glass door repair service serving West Palm Beach, is proud to announce it's latest 'think piece,' post about the relationship between curb appeal and new patio doors. With affluent neighborhoods in the West Palm Beach area such as Grandview Heights and Flamingo Park seeing new real estate interest, the post reminds sellers that an attractive patio entrance increases buyer interest in a competitive market.
"The Patio door is the entrance to someone's potential Florida dream home. In real estate, curb appeal is the first step to selling a home," explained Yani Santos, general manager of Express Glass. "Our blog focuses on 'how to' and 'think piece' articles that can help homeowners maximize their value."
Home sellers needing to increase the curb appeal of a home can read the informative blog post about this important issue from Express Glass and Board Up, at the following URL:
http://www.expressglassfl.com/blog/patio-door-repair-2/curb-appeal-in-west-palm-beach-the-patio-door-angle/
New and Beautiful Patio Doors are Essential to Curb Appeal in the Competitive West Palm Beach Real Estate Market.
People interested in buying real estate in South Florida expect beach views to be framed with attractive patio doors. Express Glass and Board Up reminds home sellers that people plan to see West Palm Beach homes in turn-key condition. Dingy sliding glass doors and corroded frames can dampen buyer expectations. A small investment to replace out-of-date patio doors will increase homebuyer interest and add equity to the dwelling.
About Express Glass Repair and Board Up
Express Glass and Board Up Service Inc. is a family owned and operated glass repair business with more than 20 years of experience. Their professional technicians and the large variety of inventory make Express Glass the top glass repair service. If customers are looking for West Palm Beach glass repair or Ft. Lauderdale glass repair as well as glass repair in Delray Beach or West Palm Beach glass repair, please reach out to the company for a free estimate. If customers need a 24/7 Sliding Glass Door repair service in Ft. Lauderdale or Boca Raton or Miramar, technicians are standing by. The company specializes in sliding glass door repair and window glass repair; technicians will handle any glass replacement situation efficiently. Home or business glass repair is the company's main priority.
Express Glass Repair and Board up
Web. http://www.expressglassfl.com/