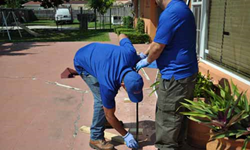 Patio doors get a lot of use in Ft. Lauderdale, and our customers frequently call for help in deciding a sliding glass door issue.
Fort Lauderdale, FL (PRWEB) September 15, 2015
Express Glass & Board Up, a top glass repair service serving South Florida and Fort Lauderdale in particular, is proud to announce it has crossed an important blogging milestone: over forty informative posts on glass repair issues specific to Fort Lauderdale, and especially sliding glass door repair and replacement. The forty plus blog posts can be viewed at http://www.expressglassfl.com/blog/tag/fort-lauderdale/.
Of importance are the posts that concern consumer confusion over the replace or repair dilemma with respect to sliding doors of all types. South Florida residents want to make the best choice for their situation, but can be confused by 'too much' information.
"Patio doors get a lot of use in Ft. Lauderdale, and our customers frequently call for help in deciding a sliding glass door issue," commented Yani Santos, general manager of Express Glass. "The reality is that they need timely, up-to-date information and passing forty blog posts indicates both an important milestone and our commitment to be the Internet leader in glass repair information for Fort Lauderdale residents."
In addition, to the above-mentioned page showing the forty blog posts, users are directed to the following pages.
1) To browse updated content on repairing vs. replacing sliding doors, please go to: http://www.expressglassfl.com/sliding-door-repair/.
2) Fort Lauderdale residents can browse a page specific to their city at http://www.expressglassfl.com/fort-lauderdale-glass-window-repair/.
New Content Just in time For Fall
It should be noted that Express Glass & Board Up has made a commitment to providing strong, timely Internet content for both the do-it-yourself community as well as those who would hire a professional glass repair service. New content is something that the company posts every month to its blog; Express Glass & Board Up is unique in the industry for its commitment to being a publisher of information as well as a glass repair service.
The Repair vs. Replacement Decision: a Recurring Theme in Glass Repair
While people outside the glass industry might mistakenly judge that glass repair issues are not timely, new, or relevant, nothing could be further from the truth. Glass repair evolves continually, and the reality is that consumers look for new, timely information because both old and new sliding glass door repairs can be very involved. Indeed, the do-it-yourself movement has spurred a frustrating customer experience: first, the customer attempts to fix the door himself; second, he or she turns to the Internet to look for timely information; and third, he reaches out to a truly professional organization for help.
Passing forty blog posts on just Fort Lauderdale alone is proof positive that Express Glass & Board Up is a leader not only in glass repair but in Internet content. The company "gives away" excellent content on the belief that helping customers is more important than simply making money.
About Express Glass Repair and Board Up
Express Glass and Board Up Service Inc. is a family owned and operated glass repair business with more than 20 years of experience. Their professional technicians and the large variety of inventory make Express Glass the top glass repair service. If customers are looking for Miami glass repair or Ft. Lauderdale glass repair as well as glass repair in Delray Beach or West Palm Beach glass repair, please reach out to the company for a free estimate. If customers need a 24/7 Sliding Glass Door repair service in Ft. Lauderdale or Boca Raton or Miramar, technicians are standing by. The company specializes in sliding glass door repair and window glass repair; technicians will handle any glass replacement situation efficiently. Home or business glass repair is the company's main priority.
Express Glass Repair and Board Up
Web. http://www.expressglassfl.com