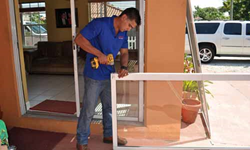 Patio doors get a lot of use in Ft. Lauderdale, and our customers frequently call for help in deciding a sliding glass door issue
Fort Lauderdale, FL (PRWEB) April 13, 2016
April 13, 2016. Fort Lauderdale, FL.
Express Glass is proud to announce several updates to its Ft. Lauderdale, Florida page on sliding glass door replacement, just in time for the busy Summer season. Confusion, in particular, arises among consumers over the replace or repair dilemma with respect to sliding doors of all types. South Florida residents want to make the best choice for their situation, but can be confused by 'too much' information.
"Patio doors get a lot of use in Ft. Lauderdale, and our customers frequently call for help in deciding a sliding glass door issue," commented Yaniet Santos, general manager of Express Glass. "Whether it's better to repair or replace a door can be a tough question for a novice to answer; therefore, our newly updated content helps address this question on the Web, and customers can always call for a no cost, no obligation on any type of glass repair in the greater Fort Lauderdale area. We've updated the information to reflect new brands and replacement opportunities as well as more 'evergreen' repair topics."
To browse the updated content as of April, 2016, on repairing vs. replacing sliding doors, please go to: http://www.expressglassfl.com/sliding-door-repair/.
While the questions answered there are particularly important in the red hot Fort Lauderdale real estate market, they are applicable to other South Florida locations as well. For example, the new page has information on high impact glass as well as braking or fog issues.
Fort Lauderdale residents can browse a page specific to their city at http://www.expressglassfl.com/fort-lauderdale-glass-window-repair/. So the issues can therefore be approached from either a 'subject' or 'city' perspective in this new layout.
New Page Content Example on a Decision Dilemma: The Repair vs. Replacement Decision
Many topics have been updated for April, 2016, but none are more important than the 'repair' vs. 'replace' dilemma. It explains as follows. Ft. Lauderdale residents enjoy poolside views from crystal clear patio doors. To keep the Florida scenery pristine, homeowners must decide when it is time to replace or simply repair sliding glass doors. Each situation is different. If the patio entryway is twenty years old and the house is going on the market, replacement may increase the sale price. If the doors are five years old and do not easily slide due to sand, a repair may be the better choice.
Express Glass has upgraded the information page on timely topics such as the repair vs. replacement confusion. Interested parties are urged to visit the page for other topics on replacement issues. An evaluation by a professional technician is key to making a good cost-effective long-term decision. Whether residents are in Miami, Ft. Lauderdale, or other cities along the South Florida coastline, getting answers from a skilled professional in sliding door service is easy both online and in person in this new Web format.
About Express Glass Repair and Board Up
Express Glass and Board Up Service Inc. is a family owned and operated glass repair business with more than 20 years of experience. Their professional technicians and the large variety of inventory make Express Glass the top glass repair service. If customers are looking for Miami glass repair or Ft. Lauderdale glass repair as well as glass repair in Delray Beach or West Palm Beach glass repair, please reach out to the company for a free estimate. If customers need a 24/7 Sliding Glass Door repair service in Ft. Lauderdale or Boca Raton or Miramar, technicians are standing by. The company specializes in sliding glass door repair and window glass repair; technicians will handle any glass replacement situation efficiently. Home or business glass repair is the company's main priority.
Express Glass Repair and Board Up
Web. http://www.expressglassfl.com