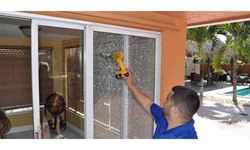 We believe it's important to offer our community a dynamic information page for any sliding door replacement and glass repair questions they have
West Palm Beach, FL (PRWEB) June 15, 2016
Express Glass and Board Up, one of the top-rated West Palm Beach glass repair companies especially for sliding door replacements and repair, is proud to announce a new milestone for the company's Google+ page. 44,000 views have been reached and the numbers are climbing.
"We believe it's important to offer our community a dynamic information page for any sliding door replacement and glass repair questions they have," explained Yaniet Santos, general manager of Express Glass. "The fact that we've topped 44,000 views on Google+ means that local folks in West Palm beach, Florida, are getting answers to their glass repair questions. I'm very proud of that!"
To view the Google+ page for Express Glass, West Palm Beach go to: https://plus.google.com/u/0/104579986647291141916/posts. Information about sliding door replacement and window repair services for home or business is available via the social posts. In addition, the company has a location-specific page for West Palm Beach residents at http://www.expressglassfl.com/west-palm-beach-glass-window-repair/.
44,000 Views and Rising for West Palm Beach Glass Repair Issues, Including Sliding Door Replacement
Florida's locals are familiar with the rising ocean tides and quick to adapt to any weather conditions the popular coastline is known for. The rising population of West Palm Beach also means a growing need for great local services and information. Google+ has become one of the quickest avenues for companies and customers to share the ebb and flow of customer questions. Whether the questions are about the trendiest restaurants or where to find the best sliding door replacement service, Google+ has become the "go to" spot for West Palm Beach locals.
Express Glass, a top service for sliding door replacement in West Palm Beach, has invested heavily in the company's Google+ page. To that end, the company's Google+ page has recently topped 44,000 views for glass repair information and is still rising. Current topics such as emergency sliding door replacement and aging building alerts continue to draw eyeballs. Swift answers to important glass repair issues are available 24 hours a day for West Palm Beach locals. The tides of Florida may rise and fall, but the informational flow for sliding door replacement stays steady as it goes.
About Express Glass Repair and Board Up
Express Glass and Board Up Service Inc. is a family owned and operated glass repair business with more than 20 years of experience. Professional technicians and the large variety of inventory make Express Glass the top glass repair service. If customers are looking for West Palm Beach sliding door replacement or Miami glass repair or Delray Beach glass repair, please reach out to the company for a free estimate. If customers need a 24/7 Sliding Glass Door repair service in West Palm Beach or Boca Raton or Miramar, technicians are standing by. The company specializes in sliding glass door repair and window glass repair; technicians will handle any glass replacement situation efficiently. Home or business glass repair is the company's main priority.
Express Glass Repair and Board up
http://www.expressglassfl.com/