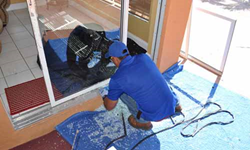 We've had customers with weak, old sliding glass doors white knuckle it through the 2015 hurricane season hoping they don't break
Fort Lauderdale, FL (PRWEB) April 18, 2016
April 18, 2016. Fort Lauderdale, FL.
Express Glass and Board Up, Fort Lauderdale Florida's highly-rated glass repair service, has announced an inspection alert for the 2016 hurricane season. Smart homeowners and businesses are urged to audit their glass windows and doors for repair or replacement needs before the 2016 season truly hits.
"We've had customers with weak, old sliding glass doors white knuckle it through the 2015 hurricane season hoping they don't break," commented Yaniet Santos, General Manager of Express Glass. "2015 was a mild year, but 2016 is not predicted to be so tame. When flying patio furniture smashes those weak patio doors, it becomes a crisis. To avoid this type of emergency, we've issued an alert to the Fort Lauderdale community about scheduling a pre-inspection of all glass doors and windows."
Each homeowner or business situation is different. Therefore, to get an idea of the glass replacement or repair options available, interested parties are urged to visit the website at http://www.expressglassfl.com/. Then choose the best option from the tab menu across the top. Alternatively, they can call in to the company for over-the-phone guidance, or schedule a no cost inspection prior to the season should book it online at http://www.expressglassfl.com/contact-us/. To take advantage of the priority offer, residents should mention code: 'Hurricane2016.'
Sliding Glass Door Replacement One of the Top Needs for Fort Lauderdale Locals Preparing for Hurricane Season 2016.
During hurricane season, Fort Lauderdale properties may be more vulnerable to a broken glass crisis if sliding glass door replacement is put on the back burner. Older, weak glass can eventually break if flying debris crashes against patio doors during a big storm. A pre-inspection prior to hurricane season may help protect a Ft. Lauderdale home or business from a shattered glass emergency.
Express Glass has issued an alert to vulnerable Ft. Lauderdale residents about the value of a pre-inspection and sliding glass door replacement before bad weather arrives. The company has noticed an increase in glass emergencies specifically from locations where sliding glass door replacement has not occurred for decades. Older properties experience the normal "wear and tear" of use and over time glass doors and windows become weak. The company reminds Fort Lauderdale residents not to ignore the signs of aging and make a hurricane-ready plan by scheduling a pre-inspection of all glass doors and windows. Sliding glass door replacement prior to a storm is a pro-active and smart approach to the 2016 hurricane season.
About Express Glass and Board Up
Express Glass and Board Up Service Inc. is a family owned and operated glass repair business with more than 20 years of experience. Technicians and the large variety of inventory make Express Glass the top glass repair service. If customers are looking for Fort Lauderdale sliding glass door replacement or emergency glass repair in Delray Beach or Miami, reach out to the company for a free estimate. 24/7 emergency sliding glass door replacement and repair services are also available. If customers need a 24/7 Sliding Glass Door repair service in Fort Lauderdale, Miami, or West Palm Beach, technicians are standing by. The company specializes in sliding glass door replacement and window glass repair; technicians will handle any glass replacement situation efficiently. Home or business glass repair is the company's main priority.
Express Glass Repair and Board up
http://www.expressglassfl.com/