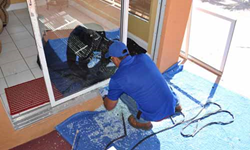 our marketing strategy is 'Internet first,' with three new posts to our Google+ account indicating where we are headed for 2017
Miami, Florida (PRWEB) February 27, 2017
February 27, 2017 - Miami, Florida
Express Glass and Board Up, Miami's glass repair leader, is proud to announce three new significant posts to social media. While many think of glass repair services as not technologically sophisticated, Express Glass has taken the lead in the industry by reaching out to potential customers on social media sites like Twitter and Google+. The new posts for February are an exciting enhancement to this "Internet first" marketing strategy.
"Miami and Miamians are decidedly pro-technology," explained Yaniet Santos, general manager. "Many people in Miami live on their mobile phones, constantly sharing updates with friends and family via social media sites such as Twitter, Facebook, Snapchat and even Google+. Accordingly, our marketing strategy is 'Internet first,' with three new posts to our Google+ account indicating where we are headed for 2017."
To view the three new social posts, visit the company's Google+ page at https://plus.google.com/106008012459892876984, or first visit the Miami sliding glass door repair page at http://www.expressglassfl.com/miami-glass-window-repair/, and hop over to Google+ by clicking on the appropriate social media icon.
New Posts on Google+ on Miami Sliding Glass Door Repair
Sliding glass door repair is one of the company's hottest services, as many Miami consumers want their sliding glass doors to be in tip-top condition. (Accordingly, the company website has an information page specifically on sliding glass door repair at http://www.expressglassfl.com/home-window-repair/sliding-glass-door-repair/). The new social media posts for February are:
West Palm Beach - Commercial Glass Repair vs. Residential Glass Repair. This post focuses on Miami's affluent suburb, West Palm Beach, and explains how Express Glass reaches into both the commercial and residential glass repair markets.
New Double-Paned Glass Installation, Repair, and Replacements. Many Miami and South Florida consumers are keen to conserve energy, so this post explains the company's ability to install energy-efficient double-paned sliding glass doors.
Clarification on Auto vs. Home Glass Repair. This third key social media post explains that the company does not repair auto glass repairs, but rather focuses on the commercial and residential glass repair market, with a special emphasis on sliding glass doors in the greater Miami area.
Media inquiries from journalists and bloggers are encouraged, as Express Glass is truly a company that has a forward-looking marketing strategy that is 'Internet first.'
About Express Glass and Board Up
Express Glass and Board Up Service Inc. is a family owned and operated glass repair business with more than 20 years of experience. Their professional technicians and the large variety of inventory make Express Glass the top glass repair service. If customers are looking for Miami glass repair or Ft. Lauderdale glass repair as well as glass repair in Delray Beach or West Palm Beach glass repair, please reach out to the company for a free estimate. If customers need a 24/7 Sliding Glass Door repair service in Ft. Lauderdale or Boca Raton or Miramar, technicians are standing by. The company specializes in sliding glass door repair and window glass repair; technicians will handle any glass replacement situation efficiently. Home or business glass repair is the company's main priority.
Express Glass Repair and Board up
http://www.expressglassfl.com/