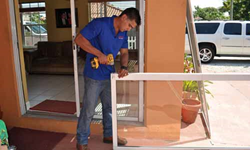 Fixing the glass screen on a cell phone is not the same as fixing a glass window on a property, yet different languages interpret things differently
Boca Raton, Florida (PRWEB) March 31, 2017
Express Glass & Board Up, Boca Raton's most popular sliding glass door repair service, is proud to announce a new bilingual blog post on the topic of glass repair, especially with respect to sliding glass doors. Glass repair can be interpreted in different ways depending on the language. Residents searching for emergency sliding glass door repair may need to understand the differences for a quicker response time.
"Fixing the glass screen on a cell phone is not the same as fixing a glass window on a property, yet different languages interpret things differently," commented Yani Santos, general manager of Express Glass. "We have many Spanish speakers in the Florida area and have received calls confusing the services. We thought a new blog post explaining the differences would be helpful."
To review the new blog post about differences in glass repair services please visit - http://www.expressglassfl.com/blog/glass-repair/boca-raton-iphones-no-boca-raton-glass-repair-si/. Clear distinctions between glass repair for cell phones or cars and glass repair for houses has been explained. For information about sliding glass door repair in Boca Raton and the surrounding Florida area, please go to http://www.expressglassfl.com/boca-raton-fl/.
Boca Raton Finds No Language Barrier for Sliding Glass Door Repair
Florida's multicultural and vibrant community can be used to seeing English to Spanish translations on signs around town. Signs in two languages can offer the English and Spanish version to help the larger population. If the language has not been deciphered correctly, a confusing message can be the result. Many funny language translation fails can be found online for amusement. It may not be amusing if a Boca Raton resident has a broken patio door and needs emergency sliding glass door repair service. If English is a second language, typing glass repair into an online search may bring up the wrong type of service. Wasting time trying to locate the best sliding glass door repair in Boca Raton could become frustrating.
Express Glass, a top-rated sliding glass door repair service in Boca Raton has released a new blog post. The new post translates what glass repair can mean and the confusion caused by a cultural barrier. Broken glass at a home or the office can be a danger and should be repaired quickly. Searching for glass repair online may not be enough. Several types of glass repair could be the result such as auto glass or cell phone screen replacement. Specific words such as sliding glass door repair or emergency home window replacement may help. Experts in auto glass or cell phone screen repair may not be the right choice for a shattered home window. Express Glass has helped Boca Raton clear up a language barrier to fixing a sliding glass door repair problem.
About Express Glass - Boca Raton
Express Glass and Board Up Service Inc. is a family owned and operated glass repair business with more than 20 years of experience. Their professional technicians and the large variety of inventory make Express Glass the top sliding glass door repair service. If customers are looking for Boca Raton glass repair, please reach out to the company for a free estimate. If customers need a 24/7 sliding glass door repair service in Boca Raton, technicians are standing by. The company specializes in glass door repair and window glass repair; technicians will handle any glass replacement situation efficiently. Home or business glass repair is the company's main priority.
Express Glass & Board Up
http://www.expressglassfl.com/
Tel. 561-470-6002