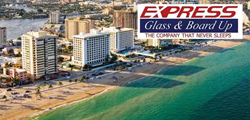 When glass breaks in a home or business, we like to get right into action so, we upgraded the blog page to include details about safety tips and immediate response
Fort Lauderdale, FL (PRWEB) September 16, 2016
GWR Glass Repair, Fort Lauderdale's leader in glass repair and replacement services for both homeowners and businesses at http://glasswindowrepair.com/, has announced an upgraded ready-to-view blog page for sliding glass door repair and replacement issues. On the new blog page, Fort Lauderdale's top glass repair team gets straight to the point offering easy access to information for people seeking to understand their options, especially with respect to sliding glass door repair and replacement issues, which is the #1 most complex issue in home glass repair.
"It's hurricane season in Florida again," commented Yaniet Santos, general manager of GWR Glass Repair. "When glass breaks in a home or business, we like to get right into action so, we upgraded the blog page to include details about safety tips and immediate response service for Fort Lauderdale residents, especially on the often misunderstood issues of whether to repair, or replace, a sliding glass door."
To review the enhanced GWR glass repair blog page go to; http://glasswindowrepair.com/2016/08/replacing-sliding-glass-door-ft-lauderdale-call-us/. Access to important tips and information for immediate response glass repair for Fort Lauderdale residents and the surrounding South Florida community is ready for review for those who click "up" to the blog in its entirety.
Fort Lauderdale Sliding Glass Door Repair Response Team: Ready for Action
Hurricane season in South Florida can bring chaos to Fort Lauderdale residents with little warning. High winds may pummel a property and air-bound patio furniture shatters window glass in minutes. Such an accident can send broken bits of dangerous glass debris flying inside the home. Tiny, sharp pieces of window and patio glass can adhere to furniture and carpet endangering the family. If such an emergency occurs, residents need a team ready to take quick action on sliding glass door repair.
GWR Glass Repair, a ready-for-action sliding glass door repair service, has recently enhanced the company blog with important new posts, especially a timely one on sliding glass doors. Helpful tips and information about emergency response glass repair is available for Fort Lauderdale's community. The focused approach to sliding glass door repair and replacement includes community support and a response-ready fleet of trucks for broken glass emergencies. The blog page includes tips for homeowners and business owners preparing for broken glass during hurricane-force winds. On the street and on the company website, GWR Glass Repair has a team of professionals ready for action.
About GWR Glass Repair of Fort Lauderdale
GWR Glass Repair is a family owned and operated glass repair business servicing Fort Lauderdale, Florida, with more than 15 years of experience. Professional technicians and an extensive inventory make the service one of the best-rated in Fort Lauderdale and environs. The company specializes in sliding glass door repair and window glass repair; technicians will handle any glass replacement situation efficiently. Home or business glass repair is the company's main priority. Cities served are Fort Lauderdale and the surrounding
Florida community.
http://glasswindowrepair.com/