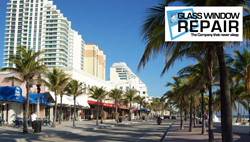 As a small business in Fort Lauderdale, we like to pride ourselves on being neutral for our customers, as to whether to repair, or replace, a sliding glass door
Fort Lauderdale, FL (PRWEB) November 30, 2016
Express Glass, Fort Lauderdale's top glass repair service for sliding glass doors at http://www.expressglassfl.com/fort-lauderdale-glass-window-repair/, is proud to announce a new and improved organizational 'tag' to its blog focusing not on repair but on the replacement of sliding glas doors. Many consumers are befuddled as to whether to repair, or replace, a sliding glass door; the new tag structure allows them to read posts on both options.
"As a small business in Fort Lauderdale, we like to pride ourselves on being neutral for our customers, as to whether to repair, or replace, a sliding glass door," commented Yaniet Santos, General Manager of Express Glass. "The newly revised tag allows consumers who are keenly focused on replacement to read a variety of ideas and suggestions about replacing their sliding glass doors."
To review the new 'tag' (which is an indexing component of the WordPress blog system), visit http://www.expressglassfl.com/blog/tag/sliding-glass-door-replacement-2/. Journalists or others who are seeking experts on sliding glass door and other home improvement issues are urged to reach out to the company via the website.
A Perennial Question: Repair vs. Replace for a Sliding Glass Door
Within home improvement, the sliding glass door occupies an almost invisible yet important place in the home. Many consumers take their sliding glass doors for granted until they no longer work. In some situations, this is a mechanical problem, while in others it can be gas leakage into the double-glass panes that are common in sliding glass doors. At this point, a consumer may realize that repairing the sliding glass door is beyond the scope of a do-it-yourself project. They then reach out to an expert for help, calling a local Fort Lauderdale business for glass repair. Many companies, however, only confuse the matter further, advocating a repair (when a replacement is needed) or a replacement (when only a repair is needed). Through its innovative blog outreach, Express Glass helps customers to pre-educate themselves online as to which option will better serve their needs. The new 'tag' structure to the blog allows consumers to access this information online, 24 hours a day, 7 days a week.
About Express Glass Repair and Board Up
Express Glass and Board Up Service Inc. is a family owned and operated glass repair business with more than 20 years of experience. Professional technicians and the large variety of inventory make Express Glass the top sliding glass door replacement and repair service. If customers are looking for Ft. Lauderdale sliding glass door repair or glass replacement in Delray Beach or Miami glass repair, please reach out to the company for a free estimate. If customers need a 24/7 sliding glass door repair and replacement service in Ft. Lauderdale or Boca Raton or Miramar, technicians are standing by. The company specializes in sliding glass door repair and window glass repair; technicians will handle any glass replacement situation efficiently. Home or business glass repair is the company's main priority.
Express Glass Repair and Board up
http://www.expressglassfl.com/