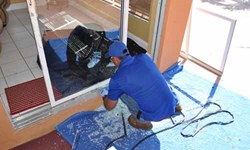 Our customers are constantly calling with new questions about their window and patio glass
Miami, FL (PRWEB) December 21, 2015
December 21, 2015 - Miami, Florida.
Express Glass and Board Up, Miami's top-rated sliding glass door repair business, is proud to announces the achievement of a 2015 blog milestone: forty posts on the topic of sliding glass door repair and replacement. The content, quantity, and quality of its blog is proof that Miami-Dade County residents have a passionate online interest in learning about broken glass issues for home and business locations.
"Our customers are constantly calling with new questions about their window and patio glass," explained Yaniet Santos, general manager of Express glass. "From upgrading patio doors to repairing broken glass from a burglary, they want answers. We are proud that our blog has topped forty posts on the subject in 2015. We will continue to reach out and inform the Florida community about broken glass issues."
To view the blog page, and read some of the forty posts, published in 2015, for Express Glass in Miami Florida go to - http://www.expressglassfl.com/blog/category/sliding-door-repair/. Information about sliding glass door and window repair for commercial and residential customers in Miami is available 24 hours a day, 7 days a week on the lively blog. That is, it is available whenever customers need it do to an unforeseen glass repair incident.
Miami Florida Locals Ask 40 Questions about Sliding Glass Door Repair
Home and business glass repair in Florida appears to be a simple issue on the surface. The simple answer may be to quickly replace a sliding glass door or window when it breaks. Florida locals have learned that various shattered glass problems may produce more questions than expected. Sliding glass door repair in a busy Miami restaurant during dinner time may not be the same as a condo window replacement at midnight.
During 2015, Express Glass made a profound commitment to using its blog as a customer educational vehicle. To date, customers have received forty answers about sliding glass door repair and replacement questions via the company blog. Blog posts include upgrading vs. repairing patio doors to 24 hour emergency glass repair. Continued detailed question-and-answer blogging is anticipated for 2016.
About Express Glass Repair and Board Up
Express Glass and Board Up Service Inc. is a family owned and operated glass repair business with more than 20 years of experience. Their professional technicians and the large variety of inventory make Express Glass the top glass repair service. If customers are looking for Miami sliding glass door repair or Miami glass repair as well as glass repair in Delray Beach or West Palm Beach glass repair, please reach out to the company for a free estimate. If customers need a 24/7 Sliding Glass Door repair service in Miami or Boca Raton or Miramar, technicians are standing by. The company specializes in sliding glass door repair and window glass repair; technicians will handle any glass replacement situation efficiently. Home or business glass repair is the company's main priority.
Express Glass Repair and Board up
http://www.expressglassfl.com/