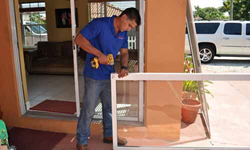 We get calls from Miami locals asking if we can repair or replace either types of glass doors. The answer is yes. We have revised our glass door repair and replace page to reflect this, for instance
Miami, Florida (PRWEB) March 18, 2016
Miami Florida's top-rated sliding glass door repair service, Express Glass at http://www.expressglassfl.com is proud to announce a small but critical clarification on its website over the 'repair' vs. 'replace' decision when it comes to residential glass repair. The problem is the number one source of angst among customers in the region. New bullet points and clear definitions of what the company offers have become easier to read, especially on mobile devices.
"French doors and patios doors are different types of glass doors, for example," explained Yaniet Santos, general manager of Express Glass. "We get calls from Miami locals asking if we can repair or replace either types of glass doors. The answer is yes. We have revised our glass door repair and replace page to reflect this, for instance. The reality, however, is that we needed to drill down into specific glass repair issues when it comes to whether to repair, or replace, various household doors and windows."
To review the revised page for Express Glass on the topic, go to http://www.expressglassfl.com/blog/tag/sliding-glass-door-replacement-2/. The new format allows customers to browse and then quickly drill down into a topic of 'repair' vs. 'replace.' For example, one can drill into the 'sliding glass door' topic vs. drilling into the 'commercial glass' topic.
French or Patio: Miami Sliding Glass Door Repair is Clarified
One example of this update concerns so-called French Doors. The city of Miami has a reputation for great style. Beachfront living lends itself to the crisp, airy trend of clean open patios and dramatic French doors. French doors open out to a patio and glass patio doors slide to the side. When glass shatters on a French door, locals may ask if a company offering sliding glass door repair can help. Various types of glass door emergencies may require different professionals to respond. Disreputable companies may not explain to the customer the benefits of replacing, vs. repairing, these expensive doors.
Express Glass has recently revamped the website page to clarify that sliding glass door repair is also French door repair. The language may differ, but when French door glass breaks, locals can call the same service for repairs in Miami. The upgraded website system explains all glass repair and replace services in bullet points and easy to read text. A broken glass door is a problem requiring quick repair or replacement for a home or business. In any language, quick and affordable French door and sliding glass door repair is available from the same company. Other topics are explained at the URL above; French Doors is just one example of this critical update.
About Express Glass Repair and Board Up
Express Glass and Board Up Service Inc. is a family owned and operated glass repair business with more than 20 years of experience. Their professional technicians and the large variety of inventory make Express Glass the top glass repair service. If customers are looking for sliding glass door replacement in West Palm Beach, Miami glass repair or Ft. Lauderdale glass repair, please reach out to the company for a free estimate. If customers need a 24/7 emergency sliding glass door replacement service along the Florida coastline, technicians are standing by. The company specializes in sliding glass door repair and replacement as well as window glass repair; technicians will handle any glass replacement situation efficiently. Home or business glass repair is the company's main priority.
Express Glass Repair and Board up http://www.expressglassfl.com