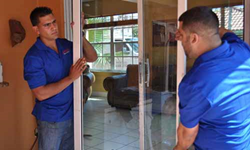 Sliding glass door repair may sound like there's one solution to every problem, but in reality that is not true, and that's not even true community to community
Miami, Florida (PRWEB) July 29, 2016
Express Glass & Board Up, known as the sliding glass door repair experts for Miami, Florida, and environs, is proud to announce an important posting milestone to its company blog. The company has added new postings for sliding glass door repair options including customized windows that are unique to geo-specific areas.
"Sliding glass door repair may sound like there's one solution to every problem, but in reality that is not true, and that's not even true community to community," commented Yaniet Santos, General Manager of Express Glass. "Many of our customers need help with replacing a special-made picture window or customized patio door. Our new posts address options to custom glass repair when a simple glass repair solution isn't enough, and we've customized our blog with location-specific content."
To review a sample post in the series on sliding glass door repair or replacement in Florida, for example, go to: http://www.expressglassfl.com/blog/sliding-door-replacement/miamis-sell-date-time-replace-sliding-door/.
To view Miami, Florida, specific information, visit http://www.expressglassfl.com/blog/tag/miami/.
Information about customized projects for patio glass, window glass and glass sliding doors is available to residents of Miami, Florida, and the surrounding area.
Miami, Florida Moves Beyond One-Size-Fits-All for Sliding Glass Door Repair
In Miami, as in other towns in the larger South Florida area, unfortunately the glass repair options may seem limited. Many companies take advantage of smaller town residents by showing them reduced options. Express Glass & Board Up, while a major player in both the Ft. Lauderdale and Miami markets, has not turned its back on the smaller cities and towns of South Florida.
Indeed, its newly updated blog leverages the Internet to give information specific to each local community. For example, the answer to standard sliding glass door repair may be standard-sized hardware and glass. Or, it may not. Many times, a one-size-fits-all approach may not work when upgrading glass for an extra-large picture window. If a patio entrance has been tailor-made to fit the scenic poolside view, standard pre-cut patio glass may not be the right choice. When searching for the best option for upgrading a custom built window, Florida locals require more than a boilerplate solution; city-specific information on the company's blog is a new innovation from Express Glass & Board Up.
Express Glass has recently posted information highlighting options for several types of sliding glass door repair and window replacement topics. Glass types such as high-impact, insulated and double pane are discussed as well as details about on-the-spot fittings for atypical installations. Upgrading a picture window whether it is standard or custom-made should not be a headache. For Miami, FL residents the best sliding glass door repair offers the right options and exceeds standards for any upgrade.
About Express Glass Repair and Board Up
Express Glass and Board Up Service Inc. is a family owned and operated glass repair business with more than 20 years of experience. The company's professional technicians and large variety of inventory make Express Glass the top glass repair service in Miami, FL. If customers are looking for Miami sliding glass door repair or Ft. Lauderdale glass repair as well as glass repair in West Palm Beach, please reach out to the company for a free estimate. If customers need emergency 24/7 Sliding Glass Door repair service in Miami or Boca Raton or Miramar, technicians are standing by. The company specializes in sliding glass door repair and window glass repair; technicians will handle any glass replacement situation efficiently. Home or business glass repair is the company's main priority.
Express Glass Repair and Board up
http://www.expressglassfl.com/