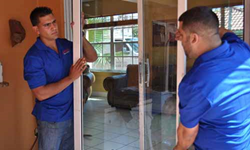 Google+ is the spot to go to for information in West Palm Beach these days
West Palm Beach, FL (PRWEB) February 25, 2016
Express Glass & Board Up, a five-star rated sliding glass door repair business in West Palm Beach, Florida, is proud to announce major new upgrades to its social media marketing strategy for the city, beginning with the Google+ network. With seven important new posts to the medium, the company continues a commitment to social media as a mechanism to inform Florida residents about glass repair and replacement, including on Google's Google+ network despite concerns about its future. This is despite dramatic changes by Google announced in February for the social network.
"Google+ remains the spot to go to for information in West Palm Beach these days despite major changes by Google," explained Yaniet Santos, general manager of Express Glass. "Our goal is to continue to inform and educate Florida residents about sliding glass door repair. Due to the positive response from customers, we know that Google+ is the perfect social media place to share our knowledge about glass repair. Thus, although we have split off the review component of Google+, we are doubling down in posts with seven important new posts to the network in February, 2016."
To view the new Google+ posts about sliding glass door repair go to; https://plus.google.com/u/0/104579986647291141916/posts. Information about emergency glass repair for residential and commercial business in West Palm Beach is available. To view the West Palm Beach glass repair page directly, please visit http://www.expressglassfl.com/west-palm-beach-glass-window-repair/. To view the reviews for the company - now split off from the posts - please search Google for 'West Palm Beach Express Glass' to find the direct link.
West Palm Beach: Google+ is the Place to Go for Knowledge about Sliding Glass Door Repair
In West Palm Beach and other Florida cities, Google+ is a top social media tool used by locals to find answers to daily problems. Informational posts on Google+ help West Palm Beach locals find answers quickly and build personal knowledge. When an accident occurs, such as shattered glass from a patio door, it may be the first place a person searches to learn about emergency sliding glass door repair will be a social media site like Google+ or Twitter.
Express Glass has recently added seven new posts to Google+ about sliding glass door repair. West Palm Beach residents can learn about topics such as repairing a stuck sliding glass door or when to consider replacing a patio door post-holiday. West Palm Beach locals may have many questions about glass repair for businesses and homes. Answers about sliding glass door repair are easy to access and easier to fix with Express Glass.
About Express Glass Repair and Board Up
Express Glass and Board Up Service Inc. is a family owned and operated glass repair business with more than 20 years of experience. Their professional technicians and the large variety of inventory make Express Glass the top glass repair service. If customers are looking for West Palm Beach sliding glass door repair or West Palm Beach glass repair as well as glass repair in Delray Beach or West Palm Beach glass repair, please reach out to the company for a free estimate. If customers need a 24/7 Sliding Glass Door repair service in West Palm Beach or Boca Raton or Miramar, technicians are standing by. The company specializes in sliding glass door repair and window glass repair; technicians will handle any glass replacement situation efficiently. Home or business glass repair is the company's main priority.
Express Glass Repair and Board up
http://www.expressglassfl.com/