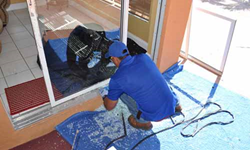 We have just added a new blog post outlining the perils of a 'do-it-yourself
West Palm Beach, FL (PRWEB) June 10, 2016
Express Glass & Board Up, a top-rated sliding glass door repair company servicing West Palm Beach, is proud to announce a new informational blog post about the differences between DIY and professional glass repair. According to the post, Florida locals looking to save money with a do-it-yourself glass installation may need to review the skills needed for success before attempting the project.
"Glass repair can seem like an easy task," explained Yaniet Santos, general manager of Express Glass. "Like installing a toilet or replacing kitchen cabinets, the idea of saving money on the project may entice people to do it themselves. But if the work isn't done properly, it can actually cost more money to fix mistakes! As this is a common scenario for our repair technicians, we have just added a new blog post outlining the perils of a 'do-it-yourself' approach."
To review the new blog post about sliding glass door repair go to: http://www.expressglassfl.com/blog/glass-repair/sliding-glass-door-west-palm-beach-homes-professional/. Details about professional glass replacement vs. do-it-yourself work are explained in detail, just in time for the busy summer home repair season. West Palm Beach residents can also find information about 24 hour sliding glass door repair services.
Do-it-Yourself vs. Professional Sliding Glass Door Repair in West Palm Beach: The Cost of Bad Choices
Saving money on home repair projects by using the "do-it-yourself" method can be a popular choice for budget-conscious homeowners today. West Palm Beach residents may try to save a few dollars by watching a quick online video and purchasing a few tools at a home improvement store. For simple tasks it may seem the smartest way to go. Yet, projects such as toilet installation, window replacement and sliding glass door repair can appear to be simple at first. Once the project is under way, a homeowner may realize the work is more complicated than expected. At that moment, the low-cost project may turn into a money losing headache.
If the end result of a DIY effort is a leaky toilet or jammed patio door, it can become a costly problem to fix. Homeowners may need to assess the skill set of a handyman vs. a professional in sliding glass door repair before beginning a home improvement task. The new blog post helps West Palm Beach homeowners avoid the cost of bad choices for sliding glass door repair. Readers who want full details are urged to visit the website and read the post in its entirety.
About Express Glass Repair and Board Up
Express Glass and Board Up Service Inc. is a family owned and operated glass repair business with more than 20 years of experience. Professional technicians and the large variety of inventory make Express Glass the top glass repair service. If customers are looking for West Palm Beach sliding glass door repair or Miami glass repair or Delray Beach glass repair, please reach out to the company for a free estimate. If customers need a 24/7 Sliding Glass Door repair service in West Palm Beach or Boca Raton or Miramar, technicians are standing by. The company specializes in sliding glass door repair and window glass repair; technicians will handle any glass replacement situation efficiently. Home or business glass repair is the company's main priority.
Express Glass Repair and Board Up
http://www.expressglassfl.com/