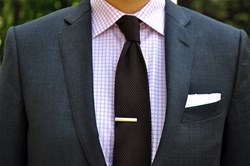 This is a great opportunity for customers to come by and try our shirts on and really experience our product firsthand.
New York, NY (PRWEB) August 07, 2013
Spectre & Co., a new e-commerce retailer that specializes in affordable, luxury-quality slim fit dress shirts, has partnered with The Market NYC for its first pop-up shopping event located at 159 Bleecker Street. A West Village shopping mainstay, The Market NYC is a design showcase for many artisans in New York, and is currently celebrating more than ten years as an iconic New York shopping destination. Spectre & Co.'s event will begin Friday, August 9th at noon, and will continue throughout the weekend.
"It's a pleasure and an honor for The Market NYC to host us for our first pop-up shopping event, we're very lucky to have found such a fantastic venue to introduce our brand to the world," says Jeffrey Zhang, founder of Spectre & Co. "Being an e-commerce business, it's difficult for customers to partake in the tactile experience that's present in more traditional retail avenues. This is a great opportunity for customers to come by and try our shirts on and really experience our product firsthand."
Spectre & Co. was founded in early 2013 with one goal in mind: to make luxury-quality, slim fit dress shirts available to the fashion-conscious man at extremely affordable prices. "Men are learning to dress better and better everyday, and menswear has never been as big as it is right now," says Zhang. "But, the one thing that hasn't really improved much, at least when it comes to high-quality shirting, is price. We want to change that. The shirt, whether dressy or casual, is the staple of a man's wardrobe, and it should by no means cost an arm and a leg. Our target demographic is the man that loves quality menswear, but isn't always willing to spend $150, $100, or even $75 on that perfect dress shirt." The majority of the retailer's offerings are under $50.
Spectre & Co.'s high threadcount, 100% two-ply cotton, slim fit dress shirts start at just $45, with free shipping in the United States as well as free returns for first-time customers. The shirts come in a standard slim fit measured by neck and sleeve size, and are constructed with less fabric in the torso and waist to prevent billowing, for a look that is both stylish and comfortable. The company also employs a completely vertically integrated production process with no middlemen, which means that costs are kept low and that from the mills abroad to the racks in New York, every detail, stitch, and button falls under one standard of quality with one person in mind: the customer. Spectre & Co.'s ownership of production and distribution without third parties keeps the lines of communication clear and creates value that the end consumer can see. The company also has over 100 years of combined experience in the garment industry, with pedigrees in the design and production team from renowned shirtmakers such as Ascot Chang.
Spectre & Co. Event and Hours:
The Market NYC
159 Bleecker Street
Friday: Noon - 9PM
Saturday: Noon - 9PM
Sunday: Noon - 8PM
For more information about the event, company, product, or sample merchandise, please contact Jeffrey Zhang at jzhang(at)shopspectre(dot)com or by phone at 914-589-0982.